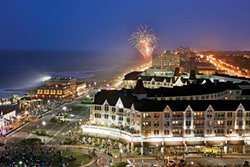 ALLENHURST, NJ (PRWEB) July 02, 2014
The Fourth of July is a celebration of America that lasts more than one day at the Jersey Shore. Monmouth and Ocean Counties will be celebrating all week long with fireworks, parades and more in honor of the land of the free and the home of the brave. Read on for more of what's going around the shore this Independence Day.
Lakewood, New Jersey – Start celebrating before July 4th at First Energy Park! On Wednesday, July 2nd and Thursday July 3rd, ticketholders are invited to stay after the game for a fireworks display above the field. The Lakewood Blue Claws will be playing the Hagerstown Suns starting at 7:00 pm. Cost for admission is $11.00. The first 2,000 fans will receive a Red, White and Blue BlueClaws rally towel.
Long Branch, New Jersey – The 24th annual Oceanfest will be held along the oceanfront Promenade on July 4th featuring live performances by dancers, clowns, and carnival acts. From 10:45 am to 10:30 pm, guests can enjoy a variety of food vendors, crafts, activities for kids and much more. The festivities conclude with one of the largest firework shows at the Jersey Shore beginning around 9:00 pm. This is a free event, rain or shine.
Point Pleasant, New Jersey – Double the fun with two fireworks shows at Jenkinson's Boardwalk. On Thursday, July 3rd, Jenkinson's Boardwalk will display their regular weekly fireworks at 9:00 pm followed by another special fireworks display on Friday, July 4th for the holiday. It is free to attend the show. The park will have a fireworks show every Thursday night until August 28th starting at 9:00 pm.
For a complete list of Fourth of July events at the Jersey Shore, visit http://bestofnj.com/jersey-shore-fireworks.