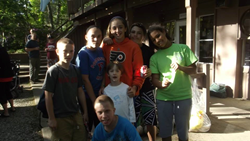 Toms River, NJ (PRWEB) July 03, 2014
It's always a party at Surf & Stream Campground for 4th of July weekend. Along with many festivals and firework shows throughout Monmouth and Ocean Counties, guests can also participate in various activities right outside their campsite. From Friday, July 4th until Sunday, July 6th, campers will experience nothing but fun all weekend long.
Kick off Independence Day with entertainment around the campfire. A deejay will play music from 7:00 p.m. to 10:00 p.m. for campers' enjoyment. Visitors can also spend a quiet evening on a hayride around the campground from 8:00 p.m. to 9:00 p.m.
Keep the celebration going with Saturday morning crafts on July 5th before Surf & Stream Campground's annual Fourth of July Picnic beginning at 6:00 pm. Guests come together for food and good company while listening to live entertainment by the Saucy Jack Band.
Pancake Paula welcomes early risers for a pancake breakfast on Sunday morning at 9:00 a.m. followed by pony rides for the little ones at 10:00 p.m.
For more information on Surf and Stream Campground events, visit their website http://surfnstream.com/.
About Surf n' Stream Campground
Surf n' Stream Campground is a family-friendly RV park located near all of the most popular beaches at the Jersey Shore. The campground includes a full-size swimming pool, picnic area, activities for all ages, weekend events and more. For more information about Surf n' Stream Campground, visit their website at http://www.surfnstream.com or call 732.349.8919.