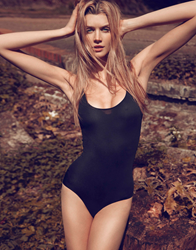 I have been designing and making jewelry as a hobby since 2009 and I absolutely love it. I am hands on. I do it all myself, make a big mess and...
New York, NY (PRWEB) July 02, 2014
Born in Hampshire, England, Jayne Moore is a model with many facets to her personality. Not only has she taken the modeling world by storm with her classic blond hair, blue eyed good looks and enviously perfect hourglass figure, Jayne is also highly creative and motivated. For the last several years, Jayne Moore has also been designing and making jewelry.
To Jayne's delight, her jewelry designs have recently been garnering a lot of attention. Beyond modeling, jewelry design is a passion for Jayne, and she is thrilled to add this endeavor to her list of goals and accomplishments. Jayne has always been interested in the arts and psychology.
Although modeling is her first love, Jayne Moore talks passionately about her jewelry business, "I have been designing and making jewelry as a hobby since 2009 and I absolutely love it. I am hands on. I do it all myself, make a big mess and frequent errors (where some of my greatest inspirations have come from actually…) and it's just started getting a lot of attention, which is both overwhelming and absolutely terrifying, but also very exciting and inspiring, so I am hoping this year to get the ball rolling on selling a small line that I think captures what my style is all about."
Jayne Moore's Many Talents
Aside from modeling for some of the most luxurious brands on the planet like American Beauty, Avon, Marie Claire, Garnier, Bloomingdales, Calvin Klein, Macy's, Votre Beaute and Glamour, Jayne Moore has studied Art & Design, psychology, accountancy, and Interior Design to complement her major passion of modeling. She has attended the School of Visual Arts and the London Jewelry School, and has studied silversmithing, lost wax carving, metal manipulation and advanced finishing techniques.
Jayne is fond of hotels and the interior design that turns them into places of comfort and luxury. Lighting, especially, is an obsession for Jayne, and how it can change, mask, accentuate or diffuse an area, and the subsequent mood it creates. Jayne is a lover of the antique and vintage, and long before it became trendy, she loves pairing old with contemporary pieces.
School of Visual Arts
Living in New York, her self-professed "Happy Place," when Jayne Moore felt the need for more creative expression beyond her modeling career, she looked into schools and artist work spaces and discovered the School of Visual Arts. It was here that her love of jewelry design and fabrication was born. She tried several techniques and methods before falling in love with lost wax carving. Currently, she hires bench space in a jeweler's studio in Prospect Heights, Brooklyn, where she hopes to launch her first line this year.
About Jayne Moore:
Jayne Moore is a top fashion model with numerous magazine covers and advertising credits to her name. Born in the UK, she makes New York City her home and not only loves modeling and the challenges it brings, but also jewelry design and interior design.
For more information on Jayne, please visit: http://www.jaynemoore.com/.