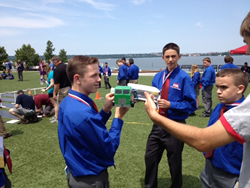 National Harbor, Maryland (PRWEB) July 01, 2014
Middle school students from across the nation competed in the first-ever Junior Solar Sprint (JSS) finals this weekend at National Harbor, Maryland outside of Washington, DC. The U.S. Army formally announced the winners of the event today.
The event, held on June 29 and June 30, 2014, took place during the Technology Student Association's (TSA) 2014 National Science, Technology, Engineering and Mathematics competitions.
The winners of the event are:
First Place - Southwest Middle School (Florida)
Second Place - The Whitefield School (New Hampshire)
Third Place - New Hope Middle School (Alabama)
The U.S. Army Educational Outreach Program (AEOP) works with TSA to foster a series of regional Junior Solar Sprint races in many parts of the United States. This event will mark the first year that regional JSS winners participate in the national JSS competition as part of TSA's National STEM Competitions. More than 80 teams of 5th through 8th grade students are expected to participate.
Throughout the school year, contestants researched, designed, and built high-performance solar cars in preparation for regional JSS races. After winning regional-level competitions, the finalist teams came to National Harbor ready to race their solar cars against peers at the national level and to determine the national winner.
Through Junior Solar Sprint, students develop teamwork and problem solving abilities, investigate environmental issues, gain hands-on engineering skills, and use STEM principles to create the fastest, most interesting, and best crafted vehicle possible. JSS challenges students to use scientific know-how, creative thinking, experimentation and teamwork to design, build and race high-performance solar electric vehicles. Designed to enhance the traditional classroom setting, JSS allows students to engage in hands-on STEM projects and reinforce the real-world of engineering.
Competing finalist were teams representing regional competitions hosted by U.S. Army research and development centers and schools across the country. Army sites that sponsored teams attending the national competition include Aberdeen Proving Ground in Maryland, the U.S. Army Aviation and Missile Research, Development and Engineering Center in Alabama and the U.S. Army Armament Research, Development and Engineering Center in New Jersey.
About AEOP
The AEOP is comprised of Army-sponsored research, education, competitions, internships and practical experiences designed to engage and guide students and teachers in science, technology, engineering and mathematics (STEM) education. From elementary school through graduate school, AEOP programs involve interactive activities, inquiry based learning and knowledgeable mentors to introduce students to STEM. Scientists, technology experts, engineers and mathematicians, who act as mentors and guides, introduce students to various levels of research and engineering and provide advice for technical skill development and career opportunities. View the full list of AEOP programs, or visit http://www.usaeop.com for more information. Also check out the AEOP on Facebook and Twitter.
About TSA
TSA is a national organization devoted exclusively to the needs of students engaged in science, technology, engineering and mathematics (STEM). Open to young people enrolled in or who have completed technology education courses, TSA's membership includes over 200,000 middle and high school students in 2,000 schools spanning 48 states. TSA partners with universities and other organizations to promote a variety of STEM competitions and opportunities for students and teachers.