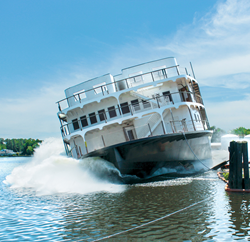 This is a significant milestone in the construction process and also for American Cruise Lines. We look forward to introducing yet another new paddlweheeler on the Mississippi River. - Timothy Beebe, Vice President, American Cruise Lines
Guilford, CT (PRWEB) July 01, 2014
American Cruise Lines (http://www.americancruiselines.com) announced today the successful launching of the new paddlewheeler being built for the Mississippi River at Chesapeake Shipbuilding in Salisbury, Maryland. The launching, which occurred on Sunday, went picture perfect. Immediately after being launched into the Wicomico River, tugboats skillfully nudged the new riverboat into Chesapeake Shipbuilding's East Outfitting Basin where the upper decks and outfitting will be completed.
"This is a significant milestone in the construction process and also for American Cruise Lines," said Timothy Beebe, Vice President of American Cruise Lines. "We look forward to introducing yet another new paddlewheeler on the Mississippi River and its tributaries."
The launching comes just a few weeks after the joining of the two hull sections, weighing at almost 600 tons a piece. With the installation of the upper decks up next, the new riverboat will come together quickly, and upon completion will be the second new riverboat built for the Mississippi by American Cruise Lines. Two additional riverboats are also on the way.
The new boat, still unnamed, will have a capacity of 150 passengers and is scheduled to begin navigating the Mississippi River and its tributaries in the spring of 2015.
About American Cruise Lines
American Cruise Lines is the largest U.S. cruise company and operates the newest fleet of riverboats and small cruise ships on more than 35 itineraries around the country. The line is known for working closely with guests and travel agents before, during, and after a cruise to create a highly personalized cruise experience. Long established and deeply experienced in cruise travel, American Cruise Lines has most recently received world-wide recognition as the first line to revive paddlewheel river cruising in America. To learn more about American Cruise Lines, visit http://www.americancruiselines.com or call 800-814-6880. Find us on Facebook at http://www.facebook.com/americancruiselines or follow us on Twitter at http://www.twitter.com/american_cruise.
###