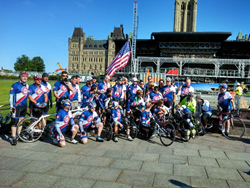 I volunteered to do this ride, because of my love for my country and brothers and sisters in arms. The CanAm ride provides a blind soldier a unique experience and perspective of North America.
Washington, DC (PRWEB) July 02, 2014
Injured veterans from Canada, the United States and Denmark are riding Pennsylvania's and Maryland's scenic byways to America's capital this week as the 766-mile, 16 day inaugural CanAm Veterans' Challenge from non-profit World T.E.A.M. Sports concludes.
Riding bicycles, hand cycles and recumbent bikes, the two-week journey from Canada's Parliament in Ottawa, Ontario comes to an end at the steps of the Capitol in Washington. The group is scheduled to participate in the prestigious National Independence Day Parade on the National Mall, presented by the National Park Service on July 4.
The 16 injured veterans and nine able-bodied colleagues began their ride on June 20 and passed through Ontario, New York and Pennsylvania on their way to the capital. Along the journey, the riders joined together as a team, sharing meals and visits to attractions such as the National Baseball Hall of Fame and Museum in Cooperstown, New York. Many communities, businesses and service organizations welcomed the team members into their town, providing receptions, dinners and special events.
Many of the participating veterans saw active service in wars and conflicts from Vietnam and Bosnia to Iraq and Afghanistan. Their service to their country resulted in the loss of limbs, paralysis, blindness, traumatic brain injuries and post-traumatic stress. Riding together helped create a new sense of community for these veterans, as well as demonstrate that individuals with disabilities are capable of exceptional achievements.
Tackling steep ascents in Pennsylvania's mountains together, the riders found that teamwork helps conquer challenges any one member may face. Riding long miles between rest stops, the riders created strong friendships that will last beyond the conclusion of the Challenge.
"I volunteered to do this ride, because of my love for my country and brothers and sisters in arms," said Army veteran Steve Baskis of Illinois. "Having lost my vision in Iraq in 2008, I returned back to the United States without the ability to see the beautiful country I grew up in. The CanAm ride provides a blind soldier a unique experience and perspective of North America."
"I am doing this ride because I want to prove to myself that I can do this and any other challenge that I put my mind to," said Idaho National Guard veteran Marc Gabiger, who works with the Idaho Steelheads, an ECHL professional hockey team.
Robert Bidder, a member of the Canadian Armed Forces since 1985, looks to the Challenge as an opportunity for "social interaction for those who otherwise might have difficulties due to symptoms related to operational stress injuries. My military career is coming to an end this fall, but I hope to be able to remain in a position where I can assist injured or ill veterans."
Corporate sponsors for the CanAm Veterans' Challenge include Realty Capital Securities LLC, American Portfolios Financial Services, Benson Botsford LLC, Exit 10, Gerstein Fisher, Penske Truck Rental, Pershing and Freshbikes. Partners include Wounded Warriors Canada and Soldier On from the Canadian Armed Forces.
About World T.E.A.M. Sports
World T.E.A.M. Sports is a 501(c)(3) not-for-profit organization chartered in North Carolina and headquartered in Holbrook, New York. Since 1993, World T.E.A.M. Sports has organized athletic events for disabled and able bodied citizens – mountain climbing, white water rafting, biking, and more. Four things always happen at our events: (1) Disabled participants build self-confidence and physical fitness; (2) The disabled provide a role model for other disabled citizens, encouraging them to take up physical activities; (3) The disabled become a moving inspiration to other participants and to spectators when they see that disabled individuals can meet challenges beyond anyone's imagination; and (4) The disabled and able-bodied participants learn to work as a team to overcome those challenges. World T.E.A.M. Sports changes lives through sports.