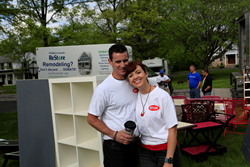 Cleveland, OH (PRWEB) July 02, 2014
For outdoor items looking worn and weathered - or indoor spaces that need a pop of color - spray paint is the perfect solution. To encourage DIYers to try their hand at these easy projects, Krylon®, the nation's leader in spray paint, presents "The Spraydown," a series of fun, yet informative online videos to demonstrate how to give old furniture and household accessories a new look.
Hosted by Mark and Theresa Clement from MyFixitUpLife® and Gail Wilson from My Repurposed Life™, the first segment, "Make It Stick" featuring Krylon® Dual® Superbond® Paint + Primer, showcases how viewers can use new Dual Superbond spray paint to revamp household items in a variety of materials, including metal, wood, plastic, laminate and hard-to-adhere surfaces—and save money doing it.
"We had a lot of fun creating this series and know our fans will love what they see and learn," said Mark Clement, MyFixitUpLife. "All we can say is Dual Superbond is an amazingly versatile and high-performing product. You'll have to tune in to find out what we were able to accomplish and how you can do it, too."
The team showcased new Dual Superbond Paint + Primer because it features breakthrough technology that offers superior adhesion, maximum rust protection and easy application – all with less prep.
"Dual Superbond offers a solution for the many surfaces that have proven challenging to paint in the past, including melamine and laminate," said Denise Patterson, Krylon product manager. "Through these online videos, we hope viewers can see for themselves just how easy it is for them to make their DIY home projects come to life."
"The wide range of colors and finishes available make any project possible," added Theresa Clement, MyFixitUpLife.
In addition to helping homeowners turn their DIY dreams into reality, the Krylon Spraydown also benefitted a well-known non-profit group. Following the taping of the series, all of the projects were donated to the Greater Cleveland Habitat for Humanity ReStore. Proceeds from the ReStore support Habitat's mission to eliminate substandard housing through home construction and rehabilitation.
"We had fun refreshing these pieces and are thrilled they will be going to a good home. It's amazing what a can or two of spray paint and a little creativity can do," said Patterson.
To view the online video series or for more information on Dual Superbond Paint + Primer, visit http://www.krylon.com. Follow Krylon at twitter.com/KrylonBrand or facebook.com/KrylonBrand for updates, or join the conversation using #KrylonSpraydown.
###
About Krylon
Krylon, the nation's leading spray paint manufacturer, is number one in color, innovation, inspiration and consumer brand recognition. The Krylon consumer products line includes a wide selection of paints and paint-related products, from general-purpose paints to specialty products to rust-preventative paints and primers.
About MyFixitUpLife
MyFixitUpLife is a multimedia destination for home improvement enthusiasts. Hosted by married licensed contractors Mark and Theresa Clement, MyFixitUpLife shares design inspiration, DIY tips, and behind-the-scenes interviews with popular TV show hosts, experts, and bloggers on their MyFixitUpLife talk radio show, MyFixitUpLife.com website, MyFixitUpLife YouTube Channel, on local and national TV shows, and through social media platforms. MyFixitUpLife's mission is to help Make Life Fun.
Contact:
Kristi Stolarski or Jenny Bahun
Falls Communications
216-696-0229
kstolarski(at)fallscommunications(dot)com or
jbahun(at)fallscommunications(dot)com