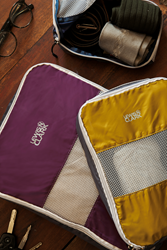 "Featherlight is really diverse in its usage. You can compartmentalize your trip and use them to pack by day with your itinerary in mind," said Jen Panattoni, Director of Marketing.
Elk Grove Village, IL (PRWEB) July 08, 2014
L.C. Industries, Inc., a leading travel accessory distributor, is pleased to introduce their latest travel essential, the versatile Lewis N. Clark FeatherLight Packing Collection.
Travelers of all types are starting to fully understand the benefits of using packing cubes. In light of this, L.C. Industries, Inc. launched its full line of lightweight packing solutions.
The collection consists of toiletry bags, pouches, expandable and non-expandable cubes, all in Lewis N. Clark's new signature FeatherLight material. The smaller toiletry bags and pouches can be used to keep personal items and electronics close by for trips or everyday use. Packing cubes enable users to expand, compress, organize, and prevent clothes from wrinkling; they can accommodate anything from undergarments to sweaters.
Available in plum, pear, and midnight, the FeatherLight Collection has already received positive reception from retailers at trade shows across the country.
The collection can be purchased at Lewis N. Clark dealers nationwide.
About L.C. Industries, Inc.:
L.C. Industries, Inc. began with the manufacturing of luggage caddies in 1971. Since then, it has expanded to offer over 500 products in categories, such as security, comfort, convenience, and health. L.C. Industries, Inc. owns several internal brands, including Lewis N. Clark®, Belle Hop®, and Li'l Lewis®.
For more information, visit http://www.lcibrands.com.