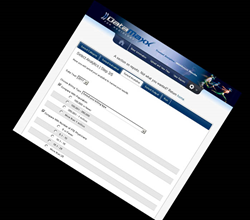 DataMAXX is designed to fit the specific needs of radiology practices.
(PRWEB) July 02, 2014
The Radiology Business Management Association announces the release of version 2.0 of its DataMAXX data warehouse. DataMAXX offers RBMA member practices user-defined, peer-to-peer benchmarking analytics to improve operational and financial performance. In its most recent iteration, DataMAXX incorporates new features and modules based on feedback from current users. As of June, DataMAXX had 109 subscribers, with 40 practices contributing their 2012 A/R data, and registration continues to increase.
"DataMAXX is designed to fit the specific needs of radiology practices," says Michael Mabry, executive director of the RBMA. "It offers a state-of-the-art approach to data collection and reporting that was developed by radiology business professionals to be customized and unique to the specialty."
In its latest release, DataMAXX includes enhancements to its existing features such as default upload files for all modules, as well as the ability to edit data online. Practices can now submit accounts receivable (A/R) data from 2012 and 2013, and Premium subscribers can take advantage of a multi-year reporting capability for A/R key indicators.
DataMAXX 2.0 also includes completely new features based on user feedback, including a compensation module that collects salary, benefits and other compensation across 66 categories of radiology practice employee, from administrative to physician. In development is a productivity module that reports RVUs and other workload indicators.
"We're very attuned to feedback from our members, and are constantly evolving and improving the way participants can interact with DataMAXX," Mabry says. "The features and capabilities of DataMAXX 2.0 reflect that commitment. With the robust benchmarks and analytics provided by DataMAXX, radiology practices can rapidly and effectively improve performance while measuring and reporting the impact of their initiatives."
The Radiology Business Management Association is a national not-for-profit association providing members with applied business information and intelligence applicable in any radiology setting. The RBMA has approximately 2,300 members involved in various management capacities in private practices, academic radiology groups, imaging centers and hospitals. The RBMA continues to be recognized as the leader for radiology-specific educational programs, products and services, publications and data.