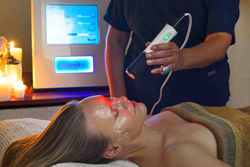 We pride ourselves on offering treatments that are not only relaxing and rejuvenating, but that have actual, noticeable results. --Suzanne Chavez, Spa Director
Santa Fe, New Mexico (PRWEB) July 01, 2014
Downtown Santa Fe's award winning Inn and Spa at Loretto, by Destination Hotels & Resorts, is proud to announce it is one of only 2 spas in the United States to now offer the innovative OxyGeneo System Facials. Known as the "super facial," the treatment is a new 3-in-1-skin treatment that combines all the benefits of microdermabrasion, chemical peels and oxygenating facials in one, providing immediate results.
An Oxygeneo facial incorporates patented OxyGeneo Technology for exfoliation, skin nourishment, cleansing and oxygenation, which provides immediate, visible and lasting results.
"We pride ourselves on offering treatments that are not only relaxing and rejuvenating, but that have actual, noticeable results," said Suzanne Chavez, the Inn and Spa at Loretto's Spa Director. "The OxyGeneo facial is perfect for someone who would like gentle exfoliation and reduction in discoloration, wrinkles and fine lines after one treatment."
EXFOLIATION: the OxyGeneo treatment exfoliates the upper skin layer without the use of a vacuum procedure, which is used in microdermabrasion and dermal infusion, making the treatment gentler on the skin. Skin will feel fresher brighter and more toned, while fine lines and pigmentation, sun damage, pore size and acne improve with continued treatments. Younger looking skin is evident after a single treatment.
INFUSION: NeoBright or NeoRevive options for skin brightening or anti-aging, respectively, incorporate formulas that reduce skin pigmentation and sun damage while lightening the skin's complexion. Agents such as Azelaic acid, for hyper pigmentation, decrease the activity of pigmented-producing cells while Kojic acid, a naturally occurring agent produced by fungi, inhibits melanin production. These formulas smooth the appearance of fine lines and wrinkles and revitalize a dull complexion.
OXYGENATE: OxyGeneo's treatment produces CO2 bubbles, which gently burst on the skin surface, creating a physiological response and sending oxygen-rich blood to the area, increasing capillary flow and skin metabolism. The oxygenation process results in optimal absorption of all the active ingredients used in the facial treatment.
The Spa at the Inn and Spa at Loretto will showcase two OxyGeneo Facials; the 50-minute treatment includes the full OxyGeneo treatment plus system for $195.00 while the 80-minute treatment includes a hydrating mask and scalp hand and arm massage for $265.00.
For press inquiries, contact:
Jennifer Hinsley
JLH Media
505 603 8643
jennifer(at)jlhmediadot)com
###
About the Inn and Spa at Loretto, by Destination Hotels & Resorts
The inn and Spa at Loretto, an award winning, AAA Four Diamond hotel, is ideally located in the heart of Santa Fe, steps from the Canyon Road galleries and just one block from historic Santa Fe Plaza's galleries, museums, and boutiques. Eloquently blending old-world charm with world-class splendor, the exquisite Inn and Spa at Loretto reflects the culture and sophistication of its historic Santa Fe location. The hotel features 136 guestrooms, a full-service spa, casual modern dining, three art galleries and a tranquil garden. Enjoy Luminaria Restaurant and Patio for three meals daily, The Living Room for happy hour, late night dining and live music and the Spa at Loretto for holistic and complete indulgence experience.
About Destination Hotels & Resorts
Destination Hotels & Resorts is an authentic collection of luxury and upscale independent hotels and resorts across North America. Offering enriching, locally-inspired experiences from alpine adventures and stunning beachfronts to urban landmarks, each property reflects the natural surroundings and culture of its distinctive locale. With more than 40 properties in premier travel destinations, including Aspen, Chicago, Denver, Lake Tahoe, Los Angeles, Maui, Miami, New Orleans, Phoenix, San Antonio, San Diego, Santa Fe, Seattle, Vail and Washington D.C., the award-winning portfolio features renowned golf courses, indigenous spas, and exceptional culinary venues. For more information on Destination Hotels & Resorts, visit http://www.destinationhotels.com. Follow us on Twitter: @Destination. Like us on Facebook: DestinationHotels.