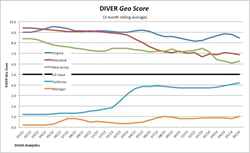 This month the list of States with largest year over year declines includes Maryland, Virginia and New Jersey
Stamford, CT (PRWEB) July 02, 2014
DIVER Geo Score results for June have been released. The DIVER Geo Score represents a relative score of the economic health of a U.S. state, county or city. Based on a scale of 0-10, with 10 being the best, this data is updated monthly and is calculated from multiple economic and demographic factors related to three primary data categories—employment, income and housing. The DIVER Geo Score Trend is proprietary measure of the relative change, over the prior 12 months, of the economic health of the referenced geographic location, where 10 represents the most favorable change.
Several weeks ago the Lumesis Commentary (link to 6/16 Commentary) identified a number of states to watch from an economic health perspective. The fifty states were divided into four groups according to DIVER Geo Score and DIVER Geo Score Trend. Of particular concern were states with relatively strong economies (high Geo Scores), which had been losing ground vs. other states (low Geo Score Trend). New Jersey, Virginia, and Maryland all fit these criteria.
June's Geo Scores for Virginia and Maryland indicate that the relative strength of their economies continues to erode. While New Jersey remains a state to watch, its June 2014 Geo Score showed a slight uptick. The chart below displays a history of the Geo Scores for these states (MD, NJ, VA), as well as for several states that have been improving (CA, MI).
Geo Score by State
This month Minnesota (#6) and Massachusetts (#10) moved into the Top 10 Geo Score Rankings for States. Strong labor markets (low unemployment, high labor participation, and high wages) are key strengths for Massachusetts and Minnesota. Virginia (#11) dropped out of the top ten.
CLICK HERE to see Top Ranked June'14
Except for some changes in relative rankings, the list of states with the ten worst Geo Scores was unchanged month over month.
A declining Geo Score means that a state's economy is lagging vs. other states. This month the list of states with largest year over year declines includes Maryland, Virginia and New Jersey. A common factor is that labor markets in these states have not been improving as fast as in other states.
CLICK HERE to see Lowest Ranked June'14
Geo Score by County
The top ten list of counties by Geo Score is dominated by North Dakota. The one exception is San Mateo, California. Notable counties just outside the top ten are Arlington, Virginia (#15); Fairfax, Virginia (#18), and New York County-Manhattan (#23).
CLICK HERE to see Top / Lowest Ranked June'14
Geo Score by City
Northern California's cities have 8 of the top 10 rankings of cities by Geo Score. West Texas oil towns Midland and Odessa round out the top ten cities list.
CLICK HERE to see Top / Lowest Ranked June'14
To subscribe to Lumesis Commentary, please click here.
About Lumesis, Inc.
Lumesis is dedicated to delivering simple-to-use, powerful technology for the Municipal Marketplace. Lumesis has three products in DIVER Solution offering—DIVER Advisor, DIVER Analytics, and DIVER Data Services. DIVER Advisor, DIVER Analytics, and DIVER Data Services offer software solutions and comprehensive data on more than 54,000 municipal issuers. DIVER Advisor is a comprehensive compliance and information delivery platform serving Financial Advisor networks, helping them address the Time of Trade Disclosure (new MSRB Rule G-47 and amended Rule G-19). DIVER Analytics is a suite of powerful analytical and visualization tools serving Credit Analysts and Portfolio Managers. DIVER Data Services matches user data and information needs with comprehensive data, analytical and delivery expertise. To learn more about Lumesis, please visit http://www.lumesis.com or contact us at inquiries(at)lumesis(dot)com.