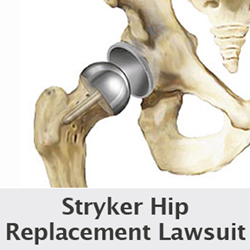 If you or someone you love suffered complications from the Stryker Hip recall, please visit yourlegalhelp.com, or call 1-800-399-0795 for a FREE Stryker Hip Lawsuit evaluation.
Columbus, OH (PRWEB) July 02, 2014
The attorneys at Wright & Schulte LLC are reporting that the first two bellwether trials in the Stryker hip lawsuit litigation have been scheduled in Bergen County Superior Court in New Jersey. Judge Brian R. Martinotti, the presiding judge over the Stryker Hip Lawsuit litigation, scheduled the trials for June 15, 2015, and July 13, 2015. There are currently over 1500 Stryker hip recall lawsuits pending litigation in the New Jersey court on behalf of patients who allege that the Stryker Rejuvenate and ABG II hip stems recalled in 2012, caused pain, infection, metal poisoning (metallosis) and other serious health complications. The Stryker Hip Lawsuits further allege that the artificial hip failed prematurely and many of the patients underwent revision surgery to have the implant removed. (In Re: Stryker Rejuvenate Hip Stem and the ABG II Modular Hip Stem Litigation, No. 296)
Wright & Schulte LLC is currently representing numerous clients in Stryker hip replacement lawsuits and continues to offer fee consultations to individuals who allegedly suffered serious complications due to the recalled Stryker Rejuvenate and ABG II Modular-Neck Hip Stems, including:

Metallosis
Tissue death
Osteolysis
Damage to bone and tissue
Inflammation
Premature failure of the implant
Infection
Loosening of implant
Formation of pseudotumors
You can speak to a skilled attorney at Wright & Schulte LLC at 1-800-399-0795 or by visiting yourlegalhelp.com. You can also like us on Facebook and Follow us on Twitter for all the latest news on the Stryker hip lawsuits or other medical device news.
According to court records there are currently 1,581 Stryker hip lawsuits are pending in the Stryker Litigation in Bergen County Superior Court, as of June 18, 2014. Although the court has scheduled bellwether trials, some cases have been selected for mediation. So far, 17 cases chosen for the Early Mediation Program established by the court have been resolved. The June 23, 2014, court order also said that three more matters are scheduled for mediation over the next 30 days. Court documents also show that 970 Stryker hip complaints are pending in the U.S. District Court, District of Minnesota where litigation for all federally filed Stryker lawsuits have been established. The complaints all allege that the recipients of artificial hip implants experienced such complications as metal poisoning (metallosis), necrosis (tissue and bone death), bone loss (osteolysis), and infection. Some lawsuits further contend that the patients had to undergo revision surgery to remove their artificial hip while others will likely need revision surgery in the future.
[judiciary.state.nj.us/mass-tort/abgstryker/caselist.pdf], June 18, 2014
[jpml.uscourts.gov/sites/jpml/files/Pending_MDL_Dockets_By_District-June-16-2014.pdf, June 16, 2014]
[judiciary.state.nj.us/mass-tort/abgstryker/cmo-17.pdf, June 23, 2014]
Stryker took its Rejuvenate and ABG II hip stems off the global market in July 2012 due to reports of corrosion and fretting at the modular neck-junction. A report issued by Stryker explains that the neck components of the Rejuvenate and ABG II are made of chromium and cobalt, while the stems are coated with titanium. The two parts wearing against each other can generate metallic debris that is released into a patient's tissue or bloodstream. This shedding of metallic debris can result in patients experiencing adverse local tissue reactions, swelling, pain and other problems.
[literature.ortho.stryker.com/files/REJUV_COM_23.pdf]
[literature.ortho.stryker.com/files/NL12_NA_HP_433.pdf]
Recent studies have supported complaints alleged in Stryker lawsuits of high metal ion levels and the need for revision surgery. One study published in the March 19, 2014, issue of the Journal of Bone & Joint Surgery, focused on 104 patients who had 123 Rejuvenate hip stems (97 modular like those recalled and 26 non-modular) implanted by one surgeon. The study followed patients from June 2009 to July 2012. Researchers found 48 percent of the patients who had modular implants had higher metal ion levels while the metal ion levels in the non-modular group were normal. Additionally, the rate of revision surgery among Rejuvenate modular hip-implant patients was 28 percent, with the majority of the revisions performed in the second year after the first hip surgery. Another study was published in the same journal issue but this one looked at 15 patients who received a Stryker ABG II dual modular hip system. The follow-up for all patients was 42.3 months. The study found the cobalt-ion levels in all patients were elevated while their chromium levels were normal. In addition, all patients had MRI findings that were consistent with adverse local tissue reaction. At the time of the study, seven patients had undergone revision surgery.
[jbjs.org/content/96/6/481, March 19, 2014]
[jbjs.org/content/96/6/488, March 19, 2014]
About Wright & Schulte LLC
Wright & Schulte LLC, an experienced personal injury firm, is dedicated to the belief that America's legal system should work for the people. Every day, the attorneys of Wright Schulte LLC stand up for the rights of people who have been injured or wronged, and fight tirelessly to ensure that even the world's most powerful corporations take responsibility for their actions. If you're looking for a law firm that will guarantee the aggressive and personal representation you deserve, please do not hesitate to contact Wright & Schulte LLC today. Free Stryker Rejuvenate and ABG II Modular-Neck Hip Replacement Stems lawsuits case evaluations are available through yourlegalhelp.com, or call 1-800-399-0795.