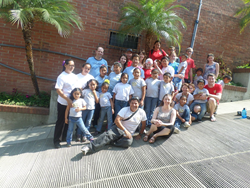 Through the reports of others, we have understood the importance of the work of God's people in countries that are less fortunate, now we are ready to see it. -Kristi Perkins
Guatemala City, Guatemala (PRWEB) July 06, 2014
While many American families finalize plans for summer vacations at the beach, Disneyland or other leading tourist destinations, Krista Barry's family is choosing a different path. Krista, her husband, Chris, and their four children will leave later this week for Guatemala City, Guatemala. There the Barrys will donate their time and talents serving people who live on far less than their neighbors 40 minutes north of Denver, Colorado.
"My hope is we will expand our perspectives of the world, other cultures and where and how others live," says Krista, a fulltime homemaker. "Also, by doing this as a family without any outside influences like friends, sports, or technology I hope to really focus on each other and our gift of giving. Our lives are fast-paced and my hope is we will have a little time to slow down and spend time together without any distractions."
This Colorado family is among nearly 500 volunteers expected to serve this year at Dorie's Promise. The orphanage is operated by Forever Changed International, a ministry based in the Portland, Oregon area. In addition to helping improve the facility and spend time with children living there, many will fan out into poor neighborhoods. The will help residents with such tasks as pouring cement floors in homes, installing furniture, or setting up stations that can be used to wash clothes and dishes.
"It is amazing we are able to help so many people in Guatemala City each week," says Naomi Beazely, Mission Coordinator for FCI. "We are able to improve on their daily living situations and share the love of God, the love of family, and teamwork with them. This brings everyone together, is a great witness to those who struggle, and teaches the community to continue to help each other and work together for good."
The Barrys got interested in going to Guatemala after a close friend of Krista's took her family there last year and developed a unity and cohesiveness that inspired Krista. "It was truly inspirational to talk to each of them about their experiences and how the Guatemalan people and the leaders from Dorie's Promise impacted them," she says. "The most powerful thing about their stories was the sincerity and love that was evident in their words and emotions."
While Kristi Perkins and her family have long supported international missionaries and sponsored needy children in other countries, this will be their first mission trip together. Visiting the same week as the Barrys, the team will include Kristi, husband Greg, three of their four children, and one son's fiancé. The Perkinses drew their inspiration from oldest son, Luke, who traveled to Guatemala in December of 2012 after earning his master's degree at Texas A&M University.
"Through the reports of others, we have understood the importance of the work of God's people in countries that are less fortunate," says Kristi, whose family lives in a rural community just north of San Antonio, Texas. "Now we are ready to see it. We are planning on seeing firsthand the way people live in Guatemala. We hope to be an encouragement to the children and staff at Dorie's Promise, too. If we work together, especially if we accomplish all these things, we can't help but grow closer as a family."
A couple from Charlotte, North Carolina who adopted their nine-year-old son from Guatemala in 2005 will be taking their two teenage daughters to Dorie's Promise in late July. Since her girls were too young to travel outside the country when they adopted Brandon, Kim Vonder said she and her husband, John, jumped at the chance to take Alli, 17, and Holly, 14, to see their brother's birthplace.
"Our journey did not end with Brandon's adoption—that was just the beginning," Kim says. "His adoption has given me such a peace about God's faithfulness to and love for our family. His love knows no boundaries and therefore our love for Brandon is the same. Because of this experience, we consider it a privilege to serve the children at Dorie's Promise. Our wish is that God will use us in some small way to minister to these children, who are precious in His sight. They are worthy of our time and resources."
While they appreciate all the volunteers who come to Guatemala, Beazely says it is a special blessing when families come to serve. Many work on their bonds during the week and develop a much deeper appreciation for family, she says. "There is a special thing that happens when they work together," Naomi says. "I think when a community sees this kind of caring, they are more open to receiving help and prayer."
--About Dorie's Promise--
Located in Guatemala City, Dorie's Promise is an orphanage providing fulltime care, housing, education and other amenities for up to 40 children. The home operates on donations and grants, primarily from sources in the United States. It is operated by Forever Changed International (FCI), which is located in the metro Portland, Oregon area. Founded by Heather Radu, FCI is dedicated to rescuing orphans and providing them with a safe, nurturing environment. For more information, contact Radu at 360-335-3125 or e-mail heather(at)servewithfci(dot)org.