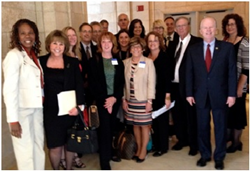 Wall NJ (PRWEB) July 07, 2014
The paradigm shift in the way divorce may be handled in N.J. is represented within the State Legislature by the unanimous passage of the Family Collaborative Law Act.
On June 26, 2014, Politickernj.com reported that the N.J. Collaborative Family Law Act is heading to the Governor's desk for signature. The New Jersey State Legislature took a major step forward toward empowering families to divorce with dignity and self-esteem, without resort to conventional litigation. The Senate unanimously (40-0) approved the N.J. Collaborative Family Law Act. Three days earlier on June 23, 2014, the General Assembly unanimously passed this Bill.
The extraordinary showing of support for the collaborative law process represents a paradigm shift in thinking within the State Legislature, and paves the way for further expansion of collaborative practice in New Jersey.
Linda L. Piff, Esq., Co-Chair of N.J. Council of Collaborative Practice Groups, spearheaded the efforts in 2004 to bring collaborative law to New Jersey. Testifying before the Senate and Assembly Committees, Piff spoke of the devastating effects that traditional divorce had on the divorcing parties and their children. "My colleagues and I were determined to change the way people divorce in New Jersey." "Too often a traditional litigated divorce starts off with a declaration of war. The casualties of that war are the children."
Piff further testified, "Collaborative law is a cost-effective problem solving approach that can minimize the impact of conflict on the parties and their children and greatly reduce the costs of the divorce.
This Bill, now pending the Governor's signature, will give parties an option to traditional litigation. Divorce as usual isn't the only choice any longer.
For more information please visit http://www.LindaPiff.com.
Contact Information
Linda Piff
http://www.lindapiff.com
(732)556-0240