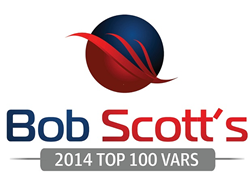 New York, NY (PRWEB) July 03, 2014
AKA Enterprise Solutions has been named to the Bob Scott's Insights Top 100 VARs for 2014. The Top 100 resellers are chosen from organizations specializing in the sale and implementation of Enterprise Resource Planning (ERP) and accounting software.
"We are proud to make this year's Top 100 resellers list. We have managed to grow our services revenue dramatically in 2014 and feel confident that our organization will continue in this direction despite changes to the business application space," said Jack Ades, Managing Director, AKA Enterprise Solutions.
AKA provides services and solutions based on Microsoft technology which includes Microsoft Dynamics ERP, CRM, Business Analytics, Integration, Business Intelligence and Cloud Services. As a Microsoft Gold Certified partner, AKA provides exceptional planning, implementation and ongoing support to make sure our customers meet their business goals.
"We want to congratulate this year's class of Bob Scott's Top 100 VARs," said Bob Scott, executive editor of Bob Scott's Insights. This special report is based on the annual revenue generated by each VAR. Bob Scott has been reporting for the mid-market financial software community via his email newsletters for 15 years. He has published this information via the Bob Scott's Insights newsletter and website since 2009 and AKA Enterprise Solutions has appeared on his Top 100 list since it began.