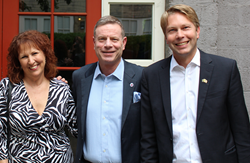 We see great opportunities for increased growth and jobs when a TTIP agreement is concluded between the European Union and the U.S.
Atlanta, GA (PRWEB) July 23, 2014
PartnerTech Inc., a major systems integration and mechanics manufacturer located in Lawrenceville, Georgia, welcomed Andreas von Uexkull to their facilities, June 6, 2014 as part of his tour of the U.S. von Uexkull, a top trade official from the Embassy of Sweden, is making an extended tour of the U.S. to bring awareness and insight to the business community concerning the Trans-Atlantic Trade and Investment Partnership (TTIP).
As an expert on global economy, von Uexkull addressed the PartnerTech staff providing a big-picture perspective on the value of TTIP to the U.S. and to Georgia. The Atlanta metropolitan region currently benefits from heavy investment and trade with the EU; due in part to the strategic location in the Southeastern U.S and also to shared interests in core industries such as clean/green technologies, biomedical devices, cyber security, financial services and healthcare IT. PartnerTech Inc. is already recognized as an expert in electronics manufacturing and TTIP implementation will further enhance the positive relationship between EU investors and the manufacturing industry.
TTIP is estimated to create as many as 25,000 new jobs in Georgia after implementation. According to a study conducted by the Atlantic Council, the Bertelsmann Foundation, and the British Embassy in Washington all fifty states will gain jobs and see an increase in exports averaging a 33% gain to the EU. All sectors will benefit from increased exports including machinery and electrical machinery.
According to von Uexkull, "We see great opportunities for increased growth and jobs when a TTIP agreement is concluded between the European Union and the U.S. According to estimates that is also the case for Georgia, where companies like PartnerTech could reap the rewards in the long term. Therefore, it is of utmost importance that we continue to aim high in the negotiations, not least in the regulatory field."
On a national scale, estimates are reporting that TTIP implementation could boost EU economy by 119 billion per year and the U.S. by 95 billion per year by 2037. The idea behind TTIP is to increase trade between the U.S. and E.U. by aligning regulatory standards without compromising environmental or product safety. This would stimulate the flow of goods, products, services and ideas, thereby creating job opportunities on both sides of the pond.
"We need to go beyond "harmonization" of regulations and make sure we go for Free Trade," said Gary Bruce, President of PartnerTech Inc., North America.
Trade agreement negotiations between the U.S. and the European Union began in June 2013 and have been through five rounds of negotiations thus far. The sixth round of talks was held last week in Brussels. In keeping with past negotiations, the sixth round will include a day with industry representatives, non-governmental organizations, trade unions, consumer groups and other civil society groups. Atlanta is being considered as a host site for negotiations in 2015.
On September 10th, the Metro Atlanta Chamber of Commerce is partnering with the Trans-Atlantic Business Council in Washington, DC, the Swedish American Chamber of Commerce and German American Chamber of Commerce in Georgia to host an event focused on educating the public about TTIP. Small businesses, large global corporations, academia, and state and local government officials are invited to attend a program with speakers from large and small businesses that benefit from EU-US trade, Gary Bruce, President and Managing Director of PartnerTech Inc., who also serves as Chair-elect for SACC – USA will join Andreas von Uexkull and other global business leaders and experts in economics on the panel to further the discussion on TTIP's significance on the transatlantic economic relationship.