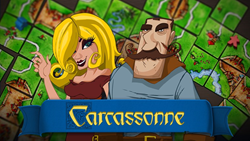 San Jose, CA (PRWEB) July 06, 2014
Game Developers Exozet recently published a 2-page marketing brochure document detailing the compatibility of Carcassonne, the classic strategy game, with Intel® Atom™ tablets for Windows*8.1. Based on the award-winning, German style board game, Carcassonne is now available to a broadening audience of tablet users.
The document describes the successful partnership between Exozet and Intel that enables the medieval land grab adventure to reach a larger fan base.
Players can now experience added enhancements and functions that powerful, versatile Windows*8.1 tablets provide. The brochure elaborated on the multiplicity of gameplay options tablet users can expect, including artificially intelligent opponents, vivid graphics, and multiplayer interactivity.
Recently optimized for the powerful capabilities of Intel Atom tablets for Android*, the game offers stunning graphics and smooth animation. As an Intel® Software Partner, Exozethas the benefit of a broad portfolio of technical and support services within the Intel® Developer Zone.
About:
Exozet is one of Germany's leading independent game developers and specializes in the development and distribution of mobile and online titles. The game development studio works hand in hand with leading publishers and licensing partners, both on its own products and on commissioned productions for the international market. Popular Exozet games include Catan, Carcassonne, HABA Orchard, and Emily the Strange. Exozet was founded by Frank Zahn in 1996. Today, 140 employees work in Berlin, Potsdam-Babelsberg, and Vienna.
exozet.com | facebook.com/exozet | xing.com/company/exozet
About the Intel Developer Zone
The Intel Developer Zone supports independent developers and software companies of all sizes and skill levels with technical communities, go-to-market resources and business opportunities. To learn more about becoming an Intel Software Partner, join the Intel Developer Zone. For more information, visit: https://software.intel.com/
Intel, the Intel logo and Intel Inside are trademarks of Intel Corporation in the U.S. and/or other countries.
*Other names and brands may be claimed as the property of others.
Copyright © 2014 Intel Corporation. All rights reserved.