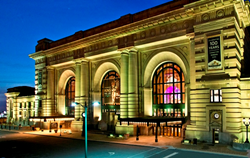 Immediately, Union Station became a regional hub for commerce and transportation. It also became Kansas City's civic center for major events and celebrations.
Kansas City, MO (PRWEB) July 01, 2014
The rare success of Kansas City's Union Station is attracting national interest as Centennial Celebration plans are shared. And, this magnificent and monumental example from the "Golden Age" of railroading still has many stories to tell.
In the early 1900's, a group of visionary entrepreneurs and 12 railroad company leaders came together to formulate a grand plan, a railroad station to rival any in the United States and beyond. The unlikely location for such a monument was to be along a small creek (OK Creek) which meandered at the edge of a dusty, burgeoning downtown Kansas City.
In 1911, construction began on the massive station, designed in the Beaux-Arts architectural style by Chicago architect, Jarvis Hunt. Nearly four years later, on October 30, 1914, Union Station opened to the public. Just after midnight on the morning of Nov. 1, the first train, the Missouri-Kansas-Texas Flyer, steamed into Union Station.
Costing nearly $6 million, and part of an expansive $50 million investment by Kansas City Terminal Railroad, Union Station was declared by the Kansas City Star to be "a magnificent building, elaborate in proportions and monumental in appearance".
Immediately, Union Station became a regional hub for commerce and transportation. It also became Kansas City's civic center for major events and celebrations. The phrase, "meet me under the clock" was coined as it was a unique point of reference inside the massive Union Station. The Station measured two blocks across the front façade, 850,000 square feet, and included a 17-acre campus with all variety of support facilities.
Total rail traffic peaked in 1917 during WWI, with 79,368 trains passing through Union Station, including 271 in one day alone.
In 1945, again during WWII, passenger traffic hit a record of 678,363 travelers through Union Station, many of who were uniformed military on their way home from overseas duty.
What followed for Union Station were decades of intense use, famous visits and occurrences and, eventually, a long decline that would challenge even the brightest business leaders to keep the wrecking balls away, as was the unfortunate fate for far too many of the nation's grand train stations.
In 1996, voters on both the Missouri and Kansas sides of the city voted overwhelmingly for a sales tax to save, restore and redevelop what was an overly neglected and boarded-up Union Station. This bi-state tax, thought to be the first of its kind in the United States, infused $118 million into the total $250 million project. Determination and a grand vision again shaped a story of success that is now a monument known and beloved across the Midwest and beyond. Too many stories from the golden age of railroading have ended in regret. Not in Kansas City.
Today, 1 million people annually walk the marble floors of Union Station, dine in her restaurants, attend meetings, shape future science and technology, and conduct the businesses of living, learning and leveraging our collective and diverse histories. People from all walks of life still line up, with queues often reaching into Grand Hall itself, to catch a train and travel across the plains, along rivers, over mountains and to destinations made equally special by the rhythm of the tracks.
Union Station Kansas City is a survivor. A young Ernest Hemingway and Walter Cronkite—both of whom found their footings at Union Station—forever held special affection for this architectural masterpiece. Jazz greats Count Basie and Charlie Parker paid their dues here before finding international status. Fats Waller died on a train stopped at Union Station. Presidents Eisenhower and Truman made their ways through crowds of supporters in Grand Hall. Even the infamous Kansas City Massacre of 1933 -- involving Frank 'Jelly' Nash and several federal agents -- added dramatic moments to Union Station's story.
You don't have to dig deep to find national significance at Union Station. And to celebrate this 100th year, a number of unique and important activities are planned . . .

September 5th - Kansas City Celebrates at the Station
The free family evening of entertainment and Centennial Kickoff to commemorate 100 years

Live Music Concert
Union Station Revealed – The Monument Comes Alive in Breathtaking Outdoor
Digital Show with Spectacular Fireworks Finale
Presented by Ivy Funds, Waddell & Reed, Inc. and National World War I Museum
October 30th - Centennial Gala
The once-in-a-lifetime exclusive dinner event, celebrating the Station's history in grand style with world-class entertainment
October 31st - Opening of the Union Station 100-year Historical Exhibition
The unveiling of the permanent exhibit that shares Union Station's 100-year history
November 1st & 2nd - Open House & Re-dedication of Union Station
Featuring history tours, sneak peeks of new attractions, entertainment from past and present, and historical trains on display
Presented by Bank of America
Union Station invites all of Kansas City – and enthusiasts from across the nation -- to join in the celebration and share in the writing of the next 100-year chapters. This is a success story both rare and worth repeating.