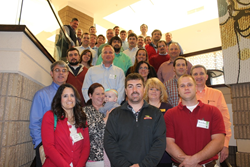 Statesville, NC (PRWEB) July 02, 2014
Carolina Farm Credit is now accepting applications for the sixth class to participate in an e-learning financial and business planning course. The Ag Biz Planner curriculum includes financial and business planning, budgeting and other money matters essential to a farm's success.
Carolina Farm Credit is offering the Farm Credit University on-line program in conjunction with the Farm Credit Associations in North Carolina, South Carolina and Virginia including AgCarolina Farm Credit, Cape Fear Farm Credit, Farm Credit of the Virginias, Colonial Farm Credit, Ag South Farm Credit and Arbor One Farm Credit. Participants will have the opportunity to interact and benchmark with producers from the other associations throughout the program and network at a conference at the conclusion of the program in Raleigh, NC.
Farm Credit's e-learning program targets young, beginning, small, and minority farmers throughout the state. Participants will be assigned a Carolina Farm Credit loan officer to serve as their mentor throughout the course. Highlights of the program include modules that cover business and personal financial planning, understanding income statements, cash flow, and the smart use of credit on the farm. Each participant will have completed a business plan for their operation at the conclusion of the class.
Carolina Farm Credit will accept up to five participants for the program which will begin in October 2014 and run through March 2015. Applications, a course outline, and program information are available at http://www.carolinafarmcredit.com. Applications will be accepted through September 1, 2014. Individuals selected for the program will be notified after September 15. The course will conclude with a group conference in Raleigh, NC March 23 & 24, 2015.
The tuition, hotel, speaker fees and meals bring the total cost of this program to approximately $1500 per participant. Upon acceptance into the program, each participant will be asked to pay $250. Participants will be refunded $150 upon successful completion of the 10 modules and presentation of their business plan. The final program cost to those completing is only $100.
Carolina Farm Credit is a stockholder-owned cooperative providing financing to full and part-time farmers and agricultural-related businesses and also provides financing for the construction and purchase of homes in 54 counties through 36 branch offices. Other financial services available are credit life insurance, crop insurance, appraisal services, leasing programs and financial planning.
Carolina Farm Credit serves over 9,000 members with loans outstanding totaling more than $1.4 billion. The association's territory covers the western half of North Carolina, with branch offices located in Albemarle, Asheboro, Asheville, Boone, Browns Summit, Burnsville, Carthage, Concord, Conover, Ellerbe, Graham, Hendersonville, Hillsborough, Jefferson, Lenoir, Lexington, Lincolnton, Marshall, Mocksville, Monroe, Murphy, Pilot Mountain, Roxboro, Rural Hall, Salisbury, Shelby, Siler City, Sparta, Spindale, Statesville, Taylorsville, Wadesboro, Waynesville, Wilkesboro, Yadkinville, and Yanceyville.
Carolina Farm Credit was recognized as a 2013 Best Employer in North Carolina. The list of the Best Employers in North Carolina was created by Business North Carolina, the Society for Human Resource Management (SHRM) – NC State Council and Best Companies Group.
Directors for Carolina Farm Credit are Mark A. Bray, Chairman, Lawsonville; L. Kim Starnes, Vice-Chairman, Salisbury; John M. Barnard, Statesville; E. Bernard Beck, Seagrove; W. Rex Bell, Statesville; David M. Coltrane, Pleasant Garden; Susie J. Gambill, Sparta; Joseph A. Lail, Shelby; W. Steve Love, Graham; Bobby J. "Bud" Matthews, East Bend; Clark M. Newlin, Haw River; Thomas E. Porter, Jr., Concord; Tony L. Ragan, Sanford; D. Kaleb Rathbone, Waynesville; Lewis E. Smith, Lincolnton; Vickie N. Smitherman, East Bend; Dr. Alton Thompson, Summerfield.