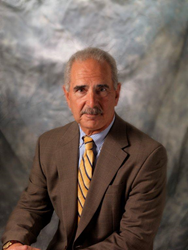 His background highlights strong and successful leadership that effectively balances goals with expectations.
New York City (PRWEB) July 02, 2014
William Fellini, PE, has joined HNTB Corporation as associate vice president and project director. Fellini brings more than 40 years of program management, technical and business experience within the rail transit industry in the New York City and Washington, District of Columbia, metropolitan areas. He is based in the firm's New York City office.
At HNTB, Fellini will apply his program management expertise with rail transit agencies throughout the region to help them maximize their capital programs.
"Bill's program management expertise and comprehensive knowledge of capital improvements in the rail transit sector make him one of the rail industry's most informed experts," said Mike Sweeney, PE, HNTB chairman of professional services and senior vice president. "His background highlights strong and successful leadership that effectively balances goals with expectations. He is a valuable addition to our rapidly growing and nationally recognized transit practice."
Fellini comes to HNTB from the Washington Metropolitan Area Transit Authority, where he was deputy chief engineer, program management, responsible for more than 100 programs valued at approximately $500 million per year.
Previously, he was with the Port Authority Trans-Hudson Corporation, where his roles included assistant director, capital program and asset management, and chief of staff-chief operating officer.
A professional engineer in New York, Fellini holds a Bachelor of Science degree in electrical engineering from Manhattan College and a Master's of Business Administration from St. John's University, both in New York City. He also holds an Advanced Professional Certificate in Finance from New York University.
About HNTB
HNTB Corporation is an employee-owned infrastructure solutions firm serving public and private owners and contractors. Celebrating a century of service, including more than 90 years in New York, HNTB understands the life cycle of infrastructure and addresses clients' most complex technical, financial and operational challenges. HNTB's New York offices currently employ more than 400 full-time professionals in nine tri-state locations. Professionals nationwide deliver a full range of infrastructure-related services, including award-winning planning, design, program delivery and construction management. For more information, visit http://www.hntb.com.