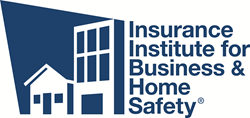 Tampa, FL (PRWEB) July 01, 2014
A group of property/casualty insurance senior executives and CEOs, including Insurance Institute for Business & Home Safety (IBHS) CEO Julie Rochman, met with senior White House officials last week to discuss resilience, property mitigation, and related issues.
"As the property insurance industry's building science research arm, IBHS is very focused on mitigating homes and businesses to make them more resistant to extreme weather events, which are on the rise. People and property are in danger not only in the future, but right now, today. These events affect communities, natural resources, ecosystems, economies, and public health across the country," said Rochman.
"We share the Administration's concerns regarding the impact of extreme weather, and strongly believe one of the key ways to achieve climate adaptation is to create more resilient communities using effective mitigation practices. Generally speaking, we can't move buildings out of Mother Nature's way, so we must build and retrofit them to be more disaster-resistant. As a country, we must shift from a post-disaster response and recovery mode to a pre-disaster preparedness mode," Rochman stated.
"There is a tropical depression strengthening off the Florida coast today that could become the first storm of the 2014 Hurricane Season. Communities along the East Coast are at risk – are they prepared? The evidence is clear that communities in which home and business owners have prepared for hurricanes are more resilient. This means fewer lives lost, less property damage, lower disaster recovery costs overall, and reduced government post-disaster aid," said Rochman.
"Resilience is a proactive means of preparing for and responding to extreme events by implementing effective mitigation at the lo¬cal, regional, and national levels. During last week's White House meeting, we discussed President Obama's proposal to create a $1 billion Climate Resilience Fund to 'help communities across the country become more resilient to the ef¬fects of climate change.' This kind of investment in resilience will help break the cycle of destruction we tend to repeat following disasters by rebuilding in the same ways in the same places and expecting a different result," noted Rochman.
Among the key things areas of agreement among both insurance and government participants in the White House meeting is the need to actively support enactment and enforcement of strong building codes and voluntary mitigation standards (such as IBHS' FORTIFIED programs), that are based on sound building science. IBHS member insurance and reinsurance companies have created a world-class, state-of-the-art Research Center to study the performance of building materials and building systems, as well as construction practices and techniques. This research directly informs IBHS' FORTIFIED programs and IBHS submissions to improve building codes. The goal of IBHS research is to create safer, stronger communities.
"The U.S. Department of Homeland Security (DHS) has identified IBHS' FORTIFIED standards as the sole criteria for its new Resilience STARTM pilot project. IBHS looks forward to continue working with the White House and DHS, as well as other key federal agencies, including the U.S. Department of Housing and Urban Development and the Federal Emergency Management Agency, to identify effective adaptation solutions to increase the resilience of homes, businesses, and communities in our country," concluded Rochman.
About The Insurance Institute for Business & Home Safety (IBHS)
IBHS is an independent, nonprofit, scientific research and communications organization supported by the property insurance industry. The organization works to reduce the social and economic effects of natural disasters and other risks on residential and commercial property by conducting building science research and advocating improved construction, maintenance and preparedness practices.