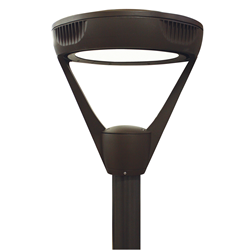 The TopDek Post Top is a fine example of a line extension that will enable our customers to specify Kenall throughout an entire parking structure, including all covered and uncovered parking areas and stairwell locations, - Jim Hawkins, Kenall CEO
Gurnee, IL (PRWEB) July 02, 2014
Kenall Lighting, a leading provider of specialized commercial and institutional lighting solutions, has launched TopDek™ Post Top pole mount luminaire, a single pole mount with high lumen output that can reduce the number of fixtures needed in a project, resulting in lower up front, installation and maintenance costs.
"Kenall strives to give our customers a wide variety of options so they can specify with confidence and ease," says Jim Hawkins, Kenall CEO. "The TopDek Post Top is a fine example of a line extension that will enable our customers to specify Kenall throughout an entire parking structure, including all covered and uncovered parking areas and stairwell locations."
Ideal for parking garages, surface lots, and area lighting, TopDek Post Top includes the following features:

Lumen output ranging from 6,500-34,000 lm
100W, 160W, 216W, 300W and 408W
4000K, 5000K and 5700K
Type II, III, IV, V-Narrow Round, and V-Wide Square distributions
Textured acrylic or polycarbonate tertiary lens; flat lens for full cutoff or drop lens for
unprecedented glare control

Die-cast, marine-grade aluminum housing
Internal house-side shield for lower wind loading and better aesthetics
Easy access to driver boards through top of housing
IP65 rating per IEC 60598
10-year limited product warranty
TopDek Post Top is complementary in appearance and function to Kenall's award-winning TopDek™ and TekDek™, with flat or drop lens options, and provides unprecedented glare control in an energy efficient, long life LED lamp source.
For additional information on the Kenall family of products, visit us on the web at http://www.kenall.com, or contact us by phone at (847) 360-8200
About Kenall Manufacturing:
Since its inception in 1963, Kenall Lighting, located in Gurnee, IL, has been known for superior quality, exceptional value, and durable solutions, and it is proud to provide sealed lighting for containment or clean spaces, security lighting for detention facilities, and specialized healthcare and transportation applications. Kenall products are designed and manufactured in the USA and meet the guidelines established under the Buy American Act and the North American Free Trade Agreement. For additional information, visit http://www.kenall.com.