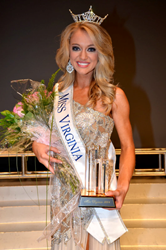 Lynchburg, VA (PRWEB) July 01, 2014
Courtney Garrett, an alumna and current graduate student at Liberty University, was crowned Miss Virginia 2014 Saturday night at the Roanoke Civic Center. Garrett graduated in May with a double-major, receiving bachelor's degrees in vocal performance and communication. She is currently pursuing her M.B.A. at Liberty. As the winner, the Pamplin, Va., native was awarded a $17,500 scholarship and will represent Virginia as a contestant in the 2015 Miss America Competition on Sept. 14.
Earlier this year, Garrett was crowned Miss State Fair of Virginia 2014. She was also a finalist in the PRWeek Student of the Year competition this year. Sarah Corder, who also graduated from Liberty in May, was the winner of that competition.
Garrett's community service platform for the pageant focused on raising awareness for people with disabilities, and she plans to continue this endeavor in her career.
About Liberty University
Liberty University, founded in 1971, is the largest private, nonprofit university in the nation, the largest university in Virginia, and the largest Christian university in the world. Located near the Blue Ridge Mountains on more than 7,000 acres in Lynchburg, Va., Liberty offers more than 350 unique programs of study from the associate to the doctoral level. More than 180 programs are offered online. Liberty's mission is to train Champions for Christ with the values, knowledge, and skills essential to impact tomorrow's world.