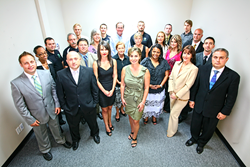 An investment in commercial property is the perfect tool to build long term wealth.
Highland Heights, OH (PRWEB) July 02, 2014
Smartland, a leading investment and property management firm, has recently introduced commercial opportunities into its real estate inventory line up. By providing investment alternatives in the multi-family sector, Smartland proudly offers investors some of Northeast Ohio's most lucrative and exciting ventures.
In addition to the single family homes that Smartland has focused on primarily, the firm's most recent procurement of multi-family properties offers investors exclusive advantages that include greater portfolio diversification, reduced maintenance cost, and decreased vacancy impact. An investment in Smartland's commercial properties may be one of the most effective ways to achieve successful portfolio diversification through a single real estate investment.
"Due to the most recent economic downfall, single family homes have been great investments in terms of higher appreciation. The prices of residential real estate continue to rise and stabilize, however, the appreciation experienced by single family and multi-family investments will soon be equal. This creates an advantage in multi-family investing through consistent monthly returns that are made possible due to spreading risk among multiple units. We are positioning our company to prepare for the next wave of accomplished real estate investors," said Vadim Kleyner, Chief Executive Officer of Smartland.
A reduction in maintenance expenses as well as quicker response times for repairs are also advantages of commercial property investments as it saves money on management, thus adding to the investor's bottom line.
Commercial property, though not an exceptionally liquid asset, is the perfect tool to build long term wealth. An investment in commercial property would be the next logical step for any real estate investor.