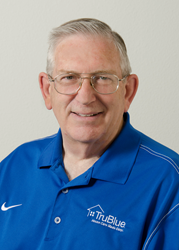 Dallas, TX (PRWEB) July 01, 2014
Owning your own home is a wonderful experience – but it can also be stressful and time-consuming. Whether you're a senior who doesn't want to worry about home improvements or a busy adult without the time to finish the "To Do" house repair list, there's a new Dallas company that can help, TruBlue Total House Care.
TruBlue of Highland Park, which is locally owned and operated by Steve Neal, specializes in providing complete house care, including maid services, home improvement, repair services, lawn care and more. TruBlue also works with real estate professionals, general contractors and property managers to maintain homes and rental properties, improve curb appeal, make final preparations to sell homes and more. All TruBlue franchises are fully insured and bonded and all employees are background checked and certified. TruBlue of Highland Park serves the Park Cities area, North Dallas and East Dallas.
TruBlue of Highland Park serves the Park Cities area, North Dallas and East Dallas.
Before opening TruBlue Highland Park, Dr. Neal was an educator. He's a retired teacher, college professor, librarian and, most recently heading a library system. He also served in the US Air Force during the Vietnam era.
"A few years ago, I met someone in the cleaning business who told me he'd be happy if he could just clean bathrooms all day. That's what got me thinking. No one wants to clean the bathroom, but it's one of those rooms that needs cleaned the most. That got the wheels turning, and when I saw TruBlue's service plan I knew TruBlue is a company that can handle that task plus others that people don't want to deal with or aren't able to take care of," Steve said.
"When I was a librarian, I taught business research and worked with business owners pretty often. They really seemed to love their work and had a great time. When I found myself looking for a new career after my retirement, I knew I wanted to open my own business, and TruBlue was a great fit," he added.
TruBlue can work with anyone with homes of any size, but Steve is especially looking forward to working with seniors and building friendships with his business.
"I'm looking forward to serving the seniors. My mother had some problems when she got older and she couldn't take care of her home. The same thing happened with my grandmother and my great-grandmother. There is a real need for this kind of home service with seniors and I know we can make aging in place easier through TruBlue's service," Steve said.
Steve is excited about bringing on quality team members – people who can do the job and are people of character. He's also hoping he'll be able to bring his daughter and son-in-law into the business when his son-in-law leaves the Navy in two years.
When Steve isn't running the business, he's busy learning something new – he took silver-smithing classes while teaching on a Navaho reservation, took bagpipe lessons while in England and has taken courses in carpentry and art among other things. He is also working on a children's book and has been a CASA volunteer for ten years.
To learn more about TruBlue of Highland Park, call (469)305-3656, email sneal(at)trubluehousecare(dot)com or visit http://www.TruBlueHighland.com.
About TruBlue Total House Care
TruBlue gives you one convenient and affordable solution for all your house care needs. Your House Care Manager will take care of your entire home, inside and out, from maid services, household repairs, yard work – even emergency repairs and seasonal projects. Our affordable services are offered year-round and are customized to meet your needs and budget. We strive to provide affordable, "worry-free" living for seniors and "hassle-free" living for busy adults. Our goal is to eliminate the worries, hassles and headaches of home maintenance and to provide full-service, trustworthy house care services to fit any budget.