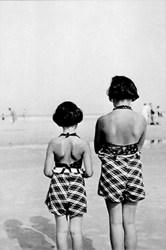 New York, NY (PRWEB) July 03, 2014
The last known dated picture of Anne Frank is from May 1942 - just weeks before her 13th birthday, and two months before she went into hiding in the Secret Annex. After that, glimpses of her life can only be found in her Diary and in official documents.
Her father, Otto Frank, was the only family member to survive the Holocaust. When he returned to Amsterdam, he discovered that, miraculously, the family photo albums had been saved. Among them are images depicting their old family life in Frankfurt, their new beginning in Amsterdam, photos of Anne's sister Margot, and school pictures showing Anne growing older year by year...
This exhibit captures the Frank family's everyday moments and simple pleasures before their lives in hiding began, and in doing so reminds us just how much was lost.
The Anne Frank Center USA
44 Park Place
New York, NY 10007
(212) 431-7993
info(at)annefrank(dot)com
http://www.annefrank.com
Tuesday-Saturday 10:00am-5:00pm
$8 adults; $5 students and seniors (65 and over); free for children 8 and under
About The Anne Frank Center USA
The Anne Frank Center USA, a partner organization of the Anne Frank House, uses the diary and spirit of Anne Frank as unique tools to advance her legacy, to educate young people and communities about the consequences of intolerance, racism and discrimination, and to inspire the next generation to build a world based on mutual respect.
The Anne Frank Fonds (AFF) was founded by Otto Frank in 1963 to promote charitable works and to play a social and cultural role in the spirit of Anne Frank. The universal heir and rights-owner of the Frank family estate, AFF uses income from the Diary and connected projects to support charitable causes and is launching a new project to provide a contemporary rendition of "The Diary of Anne Frank," bringing this important text to new audiences around the world.
Photo credits:
©Anne Frank Fonds Basel, Switzerland
©Anne Frank House Amsterdam, The Netherlands
©Arnold Newman, New York, USA