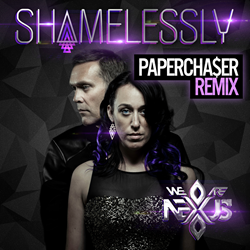 'Papercha$er introduced some real unique elements for sure,' says Gunn. 'Something I love because we want to have remixes that set us apart.'
Chicago, IL (PRWEB) July 03, 2014
It's been 10 months since (We Are) Nexus hit the dance scene with their cover to Sonique's 1998 classic trance hit "It Feels So Good". Today, the Chicago-based duo find themselves three tracks deep with remixes that cover a vast amount of territory.
Their third effort "Shamelessly", due out on July 15th, shows us they're not afraid to take risks in the ever growing EDM marketplace with an original mix that is anything but an ordinary dance track. With a meter in 3/4, rather than the usual club meter of 4/4, the duo continue taking risks to express themselves.
Bringing their original mix closer to the club scene is a remix from fellow Chicagoans Papercha$er. "We love this mix so much," says Carmen Rainier, vocalist and lyricist for Nexus. "It's such a tough track to remix and Papercha$er kept the integrity of the vocal intact, something I care very much about, while adding their own creativity and style to it".
It was only in 2011 when Papercha$er began populating the EDM scene with remixes of mainstream heavyweights like Rihanna, Kelly Clarkson, Rita Ora, The Killers, and NiRé AllDai. Since then, they've continued to make serious noise and they show no signs of slowing down, with the inception of their weekly mixshow/podcast "The Heist" being broadcast every Friday night at 2am EST on Club Phusion/iHeartRadio.
With its huge progressive chorus, the Papercha$er remix is a real in-your-face banger. What is unique to the remix is that the verse scales back to a slower tempo allowing for a very dynamic build and explosive drop. There's a hint of romance when the vocals are introduced creating real contrast within the piece.
"Papercha$er introduced some real unique elements for sure," says Gunn. "Something I love because we want to have remixes that set us apart".
Out on July 15th, "Shamelessly" includes remixes from Papercha$er, Dave Audė, Kirk Cosier, and remix contest winner Kaleptic. Hear the exclusive preview of the Papercha$er mix on the (We Are) Nexus EDM YouTube channel.
Stay up to date with everything (We Are) Nexus by following them on Facebook.com/wearenexusofficialpage, Twitter @wearenexusedm and SoundCloud.com/we-are-nexus-edm