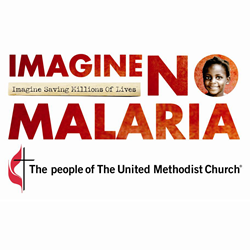 Nashville, TN (PRWEB) July 02, 2014
Imagine No Malaria has brought new life to the net with an easier-to-use website at ImagineNoMalaria.org. The website launch comes in conjunction with an insecticide-treated bed net distribution in Sierra Leone last month. Trained volunteers provided nearly 400,000 nets and education about the preventable disease in the Bo District.
With easy navigation, the new website offers visitors a visual introduction to malaria, which claims a life every 60 seconds, and the importance of Imagine No Malaria in beating this disease through prevention, communication, trained health workers and facilities, grassroots education.
United Methodists are committed to ending death and suffering from malaria. To date, we have raised 83 percent of our goal with just over $62 million in gifts and pledges. United Methodists across the world are working hard to reach and celebrate our $75 million goal before the denomination's General Conference in 2016.
Safe, secure and easy giving opportunities are available on the site so that anyone can participate and join the effort to eradicate this disease. Visitors can make one-time gifts and pledges of any amount, but many individuals participate with a recurring pledge of $28 per month over three years, to potentially save the lives of up to 100 children at risk for contracting the deadly disease.
Additionally, visitors can get a glimpse at the lives Imagine No Malaria is changing through video diaries, touching photos and new stories.
About Imagine No Malaria
Imagine No Malaria is an extraordinary ministry of the people of The United Methodist Church, putting faith into action to end preventable deaths from malaria in Africa, especially the death of a child or a mother. With a comprehensive approach to fighting this killer disease, Imagine No Malaria empowers the people of Africa to improve health infrastructure and achieve a sustainable victory over malaria.