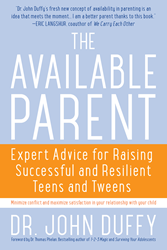 The Available Parent is a valuable and thought-provoking resource that's filled with many precious lessons and gives parents a unique perspective on cultivating a healthy relationship with their kids. —PsychCentral
(PRWEB) July 02, 2014
Clinical psychologist Dr. John Duffy was interviewed on Huffington Post Live on "Turning Travel Into a Lasting Memory." He says that travel is the glue of resilience that can hold a family together. He also suggests that while traveling to a vacation, everyone should share in activities like movies or music instead of focusing on their individual iPods, because traveling to the destination can be just as memorable as the vacation itself.
The Available Parent, 2nd Edition
Expert Advice for Raising Successful and Resilient Teens and Tweens
BY John Duffy
Highly recommended by everyone from NPR to Fox News and the Today show, Dr. John Duffy's The Available Parent will help parents negotiate the ever-changing landscape of the teenage years. Imagine healthy conversations replacing angry outbursts, slammed doors, obsessive texting or sullen silence. At a time when many helicopter parents micromanage and under-appreciate their children, Dr. Duffy's step-by-step guide is an innovative approach to taking care of teens and tweens. The Available Parent is also an audiobook.
John Duffy is a clinical psychologist and certified life coach with a thriving private practice. In addition to clinical work, Duffy also consults with individuals, groups, and corporations. Dr. Duffy's highly satisfied clients include Sears, Allstate, General Electric, Household Financial, Exxon Mobil, Accenture, Bank of America, and Hewitt Associates.