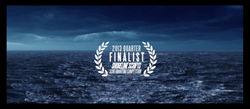 A unique, unpredictable, fantastical pseudo-horror script that excels at everything it attempts.
Los Angeles, CA (PRWEB) July 03, 2014
It all started when an unknown filmmaker, armed with a low-grade DSLR camera, a mere 300 bucks and a couple friends helping out, used a little ingenuity to create a sizzle reel for a proposed film (by building an underwater-housing for his camera out of an "igloo" beer cooler and duct-taping the camera down to a wheelchair as a make-shift dolly). The 17 minute reel garnered thousands of followers on the film's social media pages and earned the attention of some of Hollywood's best crew and artisans, who have all signed on as enthusiastic crew members for the film, now approaching pre-production.
Last weekend, the film launched on the crowdfunding website, Indiegogo, with extraordinary success. Already reaching 40% of their goal in the first weekend, it looks like this unknown filmmaker might get the chance to make his dream a reality. "I'm overwhelmed by the support," says Grellman, "I'm humbled, extremely grateful and really hopeful that we'll get to actually make this movie." The Indiegogo campaign for "Mermaid Down" set its goal at $100,000, the bare minimum needed to start shooting. "Technology has democratized filmmaking to such a degree that we don't need to spend millions," says Grellman, "and our little team is composed of the best artists in the industry - an Oscar Winner for 'Narnia' on special FX, an Emmy Winning cinematographer, a successful casting director and a hair stylist who most recently designed the 'Black Widow' wig for Scarlett Johansson in 'Captain America: Winter Soldier'. We've become a band of brothers; and we all want to make Mermaid Down something truly spectacular."
Grellman's script has received prestigious awards, coverage from the Bluecat Screenplay Competition, who deemed the screenplay "A unique, unpredictable, fantastical pseudo-horror script that excels at everything it attempts," and Filmmaker Magazine said the concept, "Takes mermaids back past The Little Mermaid and Splash to their more ancient and lethal versions in stories like The Odyssey".
The film is now searching for an unknown actress to play the mermaid. "We're looking at everyone", says Grellman, "I know she's out there somewhere. She has to have a completely unique charisma and worldliness that we haven't seen before". With an Oscar Winning Special FX company signed on to create the mermaid's tail and an earnest, gritty take on the mythology, the film promises to deliver the most realistic mermaid ever put to screen. For more info on how to submit for the role, visit the Indiegogo page (listed below) or email: MermaidDown(at)yahoo(dot)com
Incentives (or "rewards") for contributions to the Indiegogo campaign include an opportunity to be in the film, visit the set, pre-order the Blu-ray, be listed in the opening credits as an "Executive Producer" or keep key props and set pieces (including the screen-used axe prop that chops off the mermaid's tail). A portion of the proceeds from the sale of the film will go to organizations against overfishing and ocean pollution and organizations helping female victims of violence. The campaign runs until August 4th, 2014 and can be seen here: [https://www.indiegogo.com/projects/mermaid-down--2/x/1706847