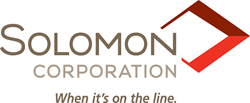 The acquisition of EASCO represents nearly a doubling of the size of our Grand Junction location, and the addition of a group of very key customers
SOLOMON, KS (PRWEB) July 03, 2014
Solomon Corporation, a leading provider of repair, rebuild, and salvage services for electrical transformers and related oil-filled equipment, is proud to announce the purchase of EASCO in Grand Junction, Colorado. The purchase of EASCO was made effective July 1st.
The Electrical Apparatus Service Company of Grand Junction, Colorado (EASCO) has been a notable member of the apparatus repair industry—serving the Colorado and Wyoming markets—for nearly a decade. EASCO specializes in repairs for voltage regulators, reclosers, sectionalizers, oil switches, pad mounted switchgear, electronic recloser control panels and voltage regulator controls. In addition, EASCO is one of just sixteen authorized service centers in the U.S. for OCR's, voltage regulators, switchgear, and transformer products by Cooper Power Systems.
"The acquisition of EASCO represents nearly a doubling of the size of our Grand Junction location, and the addition of a group of very key customers," said Tom Hemmer, CEO at Solomon Corporation. "Through the EASCO purchase, Solomon Corporation is now able to reach out to a number of electric cooperative companies across Colorado and Wyoming, and offer them a broader spectrum of product and service offerings, including distribution and substation transformers, as well as disposal services."
As part of the EASCO acquisition, Solomon Corporation also gains a team of highly-trained technicians. EASCO Founder Mike Dean looks forward to the coming transition. "I am grateful to the EASCO customers and employees who helped grow the business over the years," said Dean. "As I look into the future, I feel pleased to have found a buyer that is not only a leader in the industry, but that is also interested in retaining our employees and remaining committed to serving our customers in the Rocky Mountain region."
Solomon Corporation, which has operated a facility in Grand Junction for over 9 years, has annual sales of over $100 million. Going forward, both Solomon Corporation and former EASCO staff and technicians will operate out of Solomon Corporation's existing Grand Junction facility.
"The EASCO acquisition is the first significant step in the next stage of our growth initiative at Solomon Corporation," said Tom Hemmer. "Our entry into the western states has been very successful so far—tripling in size over the last decade. Going forward from this point, we expect to serve our new customers with the same great quality of service they've come to expect from EASCO, and help them deliver reliable power to their customers. Moving fast and building a strong, enduring company in this space will help us maintain our leadership in transformer services for the utilities industry."
About Solomon Corporation
Solomon Corporation is a leading provider of repair, rebuild, and salvage services for electrical transformers and related oil-filled equipment. Founded in 1971, the company serves investor-owned, municipal and cooperative utilities, as well as industrial owners of electrical equipment throughout the U.S. Solomon Corporation's market leadership is driven by its scale, breadth of services, long-standing customer relationships and consistent track record of dependable service. Solomon Corporation employs approximately 500 people and operates facilities in four states.
More Information
For more information about Solomon Corporation, please visit the Solomon Corporation website at http://www.solomoncorp.com or call (800) 234-2867 to speak with a representative.