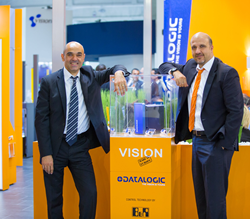 The Datalogic / B&R partnership opens new horizons for the world of industrial vision.
Telford, PA (PRWEB) July 03, 2014
Datalogic S.p.A., a global leader in Automatic Data Capture and Industrial Automation markets, announces a partnership agreement with the Austrian company B&R aimed at developing cutting-edge products for the Machine Vision industry. The partnership between these two industrial automation leaders leverages the Automation PC 910 by B&R for Datalogic's next generation of Vision Processors, the UX Series. This innovative series will be launched worldwide this fall.
Experience in Innovation
More and more, industrial processes require the application of extremely precise quality and compliance solutions for inspecting products before they enter the distribution chain. Utilizing over 40 years of experience, Datalogic has developed multi-camera vision systems in response to the growing demand for control and inspection throughout the production chain. Over the years, industry standards have become increasingly stringent, particularly in the automotive, pharmaceutical, food & beverage, cosmetic, and electronics industries. Producers deploying these industrial vision systems eliminate defective products in the distribution channel and ensure compliance to industry specifications and standards.
A New Processor for Innovative Multi-Camera Inspection Systems
Datalogic's multi-camera inspection systems guarantee the best performance in today's market. The new UX series combines all of the application and performance advantages of Datalogic's IMPACT software with the new Automation PC 910 - B&R technology which utilizes third generation Intel® Core™ i-series processors. In addition to managing up to four cameras via USB 3.0 ports, the UX Series offers high performance and low-power consumption, ideal for high speed reading and image analysis.
System technical highlights:

Three configurations of high-powered image processing capabilities
Seamless integration with standard factory networks and secondary software packages
Wide portfolio of USB 3.0 Vision cameras supported
Supports multiple camera formats and resolutions on the same vision processor
Complete software tool set for ultimate programming and configuration flexibility
No need for a secondary PC to save or analyze data
In the Fast Lane with B&R Automation PC 910
B&R APC 910 was chosen for its quality and performance levels which easily endure the most challenging conditions and the harshest industrial environments. The third generation Intel® Core™ i-series processors provide multi-core processors with an integrated graphics unit. Another advantage of the Intel® Core™ i-series technology is that it manages increased performance, while lowering power consumption. The USB 3.0 ports provide the optimal connection for integration into industrial vision solutions. The sturdy design of this industrial PC is perfectly suited for continuous operation in the harshest conditions.
Datalogic Machine Vision Software Makes the Difference
Datalogic's IMPACT Suite software, with over 120 software tools, allows customers to create unique verification and inspection programs, and to develop new user interfaces quickly and easily. The flexibility of the Vision Program Manager (VPM) allows users to quickly and easily define the 'ingredients' for inspection: from rapid image acquisition, precise item location and measurement, to the detection of even the smallest non-conformities. Moreover, the IMPACT Control Panel Manager (CPM) simplifies development of operator interfaces with the ability to make on-the-fly adjustments for immediate tuning of control parameters.
"The Datalogic / B&R partnership opens new horizons for the world of industrial vision," says Donato Montanari, Machine Vision BU General Manager at Datalogic. "The new UX family dramatically improves the performance of our vision systems, already among the most effective and efficient on the machine vision market."
Datalogic Group is a global leader in Automatic Data Capture and Industrial Automation markets. As a world-class producer of bar code readers, mobile computers, sensors, vision systems, and laser marking systems, Datalogic offers innovative solutions for a full range of applications in the retail, transportation & logistics, manufacturing, and healthcare industries. With products used in over a third of the world's supermarkets and points of sale, airports, shipping, and postal services, Datalogic is in a unique position to deliver solutions that can make life easier and more efficient for people. Datalogic S.p.A., listed on the STAR segment of the Italian Stock Exchange since 2001 as DAL.MI, is headquartered in Lippo di Calderara di Reno (Bologna). Datalogic Group as of today employs about 2,400 members of staff worldwide distributed in 30 countries. In 2013 Datalogic Group achieved revenues for 450,7 million Euro and invested over 35 million Euro in Research and Development, with a portfolio of over 1,000 patents across the world.
For more news and information on Datalogic, please visit http://www.datalogic.com.
Datalogic and the Datalogic logo are registered trademarks of Datalogic S.p.A. in many countries, including the U.S.A. and the E.U.
B&R is a privately-owned company with headquarters in Austria and offices all around the world. As a global leader in industrial automation, B&R combines state-of-the-art technology with advanced engineering to provide customers in virtually every industry with complete solutions for machine and process automation, motion control, HMI, and integrated safety technology. With industrial field bus communication standards like POWERLINK and openSAFETY, as well as the Automation Studio software, B&R is constantly redefining the future of automation engineering, with a view to simplifying processes and exceeding customer expectations.
For more information, visit http://www.br-automation.com.