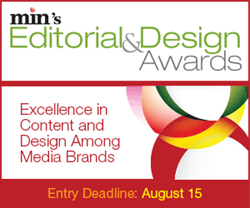 New York, NY (PRWEB) July 02, 2014
min is now accepting entries into its annual Editorial & Design Awards program. Specifically designed for consumer, business-to-business and specialized information media brands, this awards program is dedicated to shining a spotlight on the editorial powerhouses and visionary designers setting new industry benchmarks for their consistency and ingenuity.
Complete Information Regarding min's Editorial & Design Awards
Entry Categories Include:
Editorial: Print
-Advice Column
-Best Launch
-Breaking News Coverage
-How-To/Instructional
-Investigative
-Most Improved Publication
-News Coverage
-Opinion/Commentary
-Photojournalism
-Print/Online Coverage of Single Topic
-Profile or Q&A
-Series
-Single Article
-Single Magazine Issue
-Special Supplement
-Technical Article
Editorial: Online
-Best E-Newsletter
-Best New Online Tool or App for Publishers
-Blog/s
-Custom Publication
-Digital Magazine Edition
-Editorial Series
-Feature Article
-Online Column
-Repackaging of Archived Content
-Single Article
-Slideshows
-Special Section/Microsite
-Use of Social Media
-Video Program
-Web site Design
-Web site Redesign
Design
-Cover Design
-Cover Illustration
-Custom Publication Design
-Logo Design
-Logo Redesign
-Magazine Design/Single Issue
-Magazine Redesign
-Media Kit or Marketing Materials
-New Publication Design
-Online Feature/Section Design
-Photo Gallery
-Photography Spread
Hall of Fame
-Editorial Hall of Fame
-Design Hall of Fame
Freelance
-Best Freelance Article
-Best Freelance Design for a Media Web Site or Print Publication
-Best Freelance Photography
All submissions will be judged before a panel of editors, designers, and consultants who will determine winners for each category. Submissions in consumer and b2b will be awarded separately for each category. Design awards will be evaluated for aesthetics and packaging of illustration/art with editorial content. Editorial awards will be judged on factors such as quality of writing, source material, journalistic style, editorial voice and impact of article on and industry and/or readership.
Entries for the 2014 Editorial & Design Awards can be submitted online at https://acclaimworks.com/svc/minseditorial or via mail-in entry. Internal entries are accepted. The entry deadline is Friday, August 15, 2014 with a final entry deadline of Friday, August 22, 2014. Winners and honorable mentions will be announced at a celebratory awards ceremony in November in New York City.
For questions regarding min's Editorial & Design Awards, contact Marly Zimmerman at mzimmerman(at)accessintel(dot)com. To sponsor the awards breakfast in November, contact Tania Babiuk at tbabiuk(at)accessintel(dot)com.
The Editorial & Design Awards program is presented by min, the industry's trusted source on the consumer and b2b magazine business, reaching thousands of media executives through print, online and in-person events. For more than 60 years, min has been serving the magazine and media community with unparalleled coverage of this ever-changing industry. For more information, visit minonline.com.