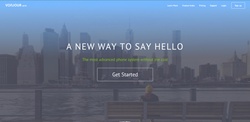 (PRWEB) July 03, 2014
Most businesses may not know what Web Real Time Communications (WebRTC) is, but they should. Vonjour, the new business phone system for enhanced customer support, is working diligently on making WebRTC more ubiquitous and power real-time voice and video business communications across the globe.
WebRTC allows real-time voice and video connections between multiple web browsers, without any plugins or third-party software. A user only needs the latest versions of Chrome or Firefox.
Traditionally, web browsers have been powerful channels to surf the web and communicate through text. However, the web browser has lagged as a medium to power two voice and video streams.
The underlying challenge of delivering browser based voice and video calls has been access to voice and video compression-decompression algorithms, more commonly known as codecs. Traditionally, codec technologies were owned by a few companies, and these companies would charge very costly licensing fees to utilize their codecs in a third-party application.
While codecs were limited in scope, there were also limitations of browsers to send two way communications in real-time. Browsers were capable of requesting or sending data, but not real-time two way streaming. For web based real time communications to be more ubiquitous everyone needed access to high quality codecs.
Google pushed the RTC community forward in 2010 when it acquired the companies GIPs and On2. GIPs was the leading provider of VoIP codecs and On2 made a powerful video codec. Google open sourced both projects, which had profound implications for IP communications and business VoIP services.
The WebRTC community has created a set of open protocols for browsers to expose to developers. As these standards become incorporated into browsers as a fully developed media stack, developers can write WebRTC applications with a few lines of Javascript.
Vonjour is utilizing WebRTC to develop new communication channels for businesses. The allows us to make communication tools accessible on any browser and outside of the traditional teleco network—making it easier for businesses to communicate directly with their clients.
The practical implications for businesses are manifold. Imagine creating a call center without having to purchase any costly hardware device. A support agent can take a call on the same device they use to log a call to the company CRM or create ticket in ZenDesk. In all, WebRTC makes for a more integrated and cost effective customer support experience.
Vonjour's desktop version is currently available and is supporting over 1500 businesses. It includes the first ever free enterprise virtual phone service. The system includes toll free and local phone numbers, unlimited extensions and call groups, a virtual receptionist and auto attendant, advanced call routing and analytics. Vonjour's mobile suite is planned to be released this summer.
The offering is the first ever free enterprise level solution. Businesses previously had to turn to costly on-site and hosted PBX solutions. Vonjour comes equipped with all the features of a costly Fortune 500 call center solution, but with more value added features to allow businesses to be more responsive to their customer's needs.
Vonjour plans a more expansive offering of customer support tools in the fall and promises to be the most sophisticated business communications platform.
About Vonjour: Vonjour was built to be more than a simple phone system. Vonjour's simple web and mobile dashboards provide an easy way for an entire company to communicate with its customers, collaborate to solve customer problems, and find intelligent insights on what customers are saying. It's a new way to communicate intelligently, without the costs.