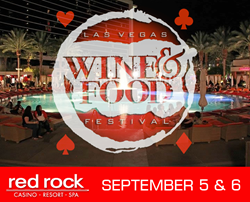 Food & Wine at its best in the culinary Capital of the world Las Vegas!
Las Vegas, NV (PRWEB) July 02, 2014
Make your escape and join us for one of our most titillating events yet. The Las Vegas Wine & Food Festival offers every extravagance right at your fingertips, and is set against the luxury backdrop of the exclusive Red Rock Casino and Resort. Savor the exceptional at every turn as you delight in the finest cuisine and spirits that Las Vegas has to offer. We invite you to delve into one of the most decadent environments in this desert oasis, as you explore the world famous Red Rock Casino and Resort. Private poolside cabanas and unfettered views are just a few of the luxurious accommodations that await you at this dazzling venue.
The Las Vegas Wine & Food Festival is a celebration of the senses, featuring an eclectic selection of elegant fare from locally renowned celebrity chefs. Feast on an enormous array of delicious foods, invigorate yourself with sensational spirits, and enjoy the good life against the backdrop of this truly inspired resort. As with all of our events, the proceeds from this celebration will be donated to a worthy cause. So come and have the time of your life, all while you help us make the world a better place. Purchase your tickets to the Las Vegas Wine & Food Festival before they sell out. A truly spectacular experience awaits you.
All the proceeds from the Las Vegas Wine & Food Festival will benefit the James Beard Foundation. Founded in 1986, the James Beard Foundation's mission is to celebrate, nurture, and honor America's diverse culinary heritage through programs that educate and inspire.
Get your tickets before they're gone!
6000 guests 100 restaurants – 50 Wineries the No. 1 brands from around the globe come together: Mastro's Ocean Club Las Vegas, Aureole Las Vegas by Charlie Palmer, Caesars Palace, Light Group, Roy's Las Vegas, BLT Burger, The Capital Grille Las Vegas, TAO, LAVO, Cantina Laredo, PreGel, N9NE Steakhouse, Popcorn Girl, Monta Ramen, Goode Girls, Maggiano's Little Italy Las Vegas, STK Las Vegas, Heartstone, Todd English Pub, Poppy Den, Terra Rosa, Academia Barilla, Island Sushi and Grill, Zenshin Asian Restaurant, FireFly Tapas Kitchen, Origin India Restaurant & Bar, Bachi Burger, Maggiano's Little Italy Las Vegas, The Palm Restaurant Las Vegas, Ferraro's, Feast, T Bones, Sauced, Chocolate Shop Wine, Ventura Limoncello, Moreno BHLV, Kirk Sweeney Rum, Plungerhead Wine, Dirty Tequila, Bombay Sapphire, Canoe Ridge Vineyard, Brooklyn Brewery, Tatoosh Distillery & Spirits, Kerrygold Cheese & Butter, Celebrity Cruises Vegas 2 LA Magazine and many more.
http://vegaswineandfood.com
About Red Rock Resort:
A recipient of the AAA Four Diamond Award for multiple years and named one of the world's best new hotels by Conde' Nast magazine in 2007 on the prestigious "Hot List," Red Rock Resort is one of Las Vegas' premier off Strip luxury resorts located 10 miles west of the Strip. The resort features more than 800 guest rooms and suites, a 25,000-square-foot spa and adventure spa program, multiple restaurants and bars, a spectacular pool area, movie theaters, bowling at Red Rock Lanes and a full array of gaming. To learn more about Red Rock Resort, please call (702) 797-7777, head to http://www.redrock.sclv.com, on Facebook: http://www.facebook.com/redrock and Twitter: http://www.twitter.com/redrockcasino.
About Celebrity Cruises:
Celebrity Cruises' iconic "X" is the mark of modern luxury, with its cool, contemporary design and warm spaces; dining experiences where the design of the venues is as important as the cuisine; and the amazing service that only Celebrity can provide, all created to provide an unmatchable experience for vacationers' precious time. Celebrity Cruises' 11 ships offer modern luxury vacations visiting all seven continents. Celebrity also presents immersive cruisetour experiences in Alaska, Australia/New Zealand, Canada, Europe and South America. Celebrity is one of five cruise brands operated by global cruise vacation company Royal Caribbean Cruises Ltd. For more information, dial 1-800-437-3111, visit Celebrity Cruises, or call your travel agent.
###