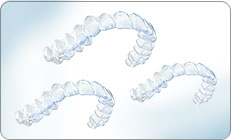 (PRWEB) July 08, 2014
Invisalign is one of the most modern and most advanced approaches to straightening teeth, and is extremely popular due to the virtual invisibility of the aligners worn to move teeth. Each set of aligners is made from strong, clear, BPA free acrylic, and is custom-designed by Dr. Penchas to gently but firmly move teeth into the correct positions.
The use of sophisticated CAD/CAM technology enables patients to view a virtual image of how their teeth will move, and predicts the exact length of treatment. Every set of aligners is worn for approximately 22 hours each day, for a two week period before being exchanged for a fresh set.
Patients love this system as the aligners are comfortable to wear, and can be taken out for brushing and flossing, and during mealtimes. There are no diet restrictions, and dental health need not suffer during treatment. There is no need to use lots of fiddly and time consuming tools for flossing around brackets and wires.
Most patients typically take around a year to complete treatment, but this time-frame does vary according to the problems requiring correction. Invisalign is able to treat most orthodontic issues and is suitable for adults and teens. This virtually invisible braces system is proving particularly popular with adult patients who wish to discreetly straighten their teeth, while Invisalign Teen is perfect for self-conscious teenagers.
Midtown Dentistry can also supply Invisalign retainers to wear once treatment is complete. These are made using the same state-of-the-art technology and help ensure teeth cannot move from their new positions.