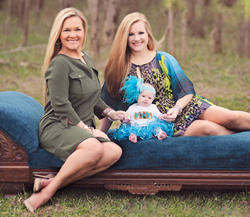 "We are honored to host these events in support of Huntsville's Hospital for Women and Children."
Huntsville, AL (PRWEB) July 16, 2014
July 17, 2014 brings two amazing events to Huntsville, AL. Local women and children's fashion retailer, ENVY Boutique, will be hosting fundraising events, "FUN in the SUN with the STARS" to benefit the Women and Children's Services at Huntsville Hospital
ENVY owners have collaborated with TV superstars Alisha, Cassadee, Cambree and Chanlee Dunlap. The Dunlaps will be sharing interesting stories and experiences from their TLC reality TV series, Cheer Perfection.
One of Dunlap's favorite sayings, 'Excellence can be achieved if you...risk more than others think is safe, love more than others think is wise, dream more others think is practical, and expect more than others think is possible,' makes this event a natural for her family.
"We are pleased to have been invited to such a worthy cause and equally honored to have this opportunity to see good friends. The MacNealys are very special people," states the mom and cheer coach.
Adds Ginger MacNealy, "Rem and I are thrilled about the big day which begins with a two-hour private gathering to meet, mingle and swim with the Cheer Perfection stars in our home. We are proud to commit all proceeds from this private event to Huntsville Hospital for Women and Children."
Guests of this event will be served lunch and receive a swag bag along with an autographed T-shirt and poster.
"The second event is an open meet and greet event at ENVY Boutique located at 617 Meriden Street. A percentage of all purchases made at this event will benefit the hospital and any purchase qualifies guests for an autographed photo op," says ENVY co-owner Rachel MacNealy-Wesson.
ENVY Boutique is the place to be on July 17th from 4-6:00 pm.