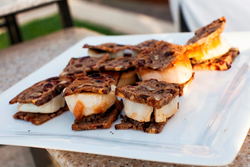 (PRWEB) July 07, 2014
In honor of National S'mores Day on Sunday, August 10, The Ritz-Carlton, Half Moon Bay is giving s'mores a twist and taking them from sweet to savory. Executive Sous Chef Ryan Urig will present three savory s'mores, each paired with a local beer. The s'mores will be served Sunday, August 10 from noon to sunset on The Ocean Terrace.

Heirloom Tomato Jam with Toasted Goat Cheese on Gluten Free Bread
Pair with Speakeasy Big Daddy IPA, San Francisco – an American-style India Pale Ale, it is generously dry-hopped with tight carbonation
Scallop on Walnut Bread with Reduced Balsamic
Pair with Speakeasy Tallulah, San Francisco – an extra pale ale with tropical fruit aromas, a light caramel sweetness and moderate hopping
Roasted Eggplant on Grilled Pita Bread with Bruleed Mozzarella Cheese
Pair with Trumer Pils, Berkley – a German style pilsner that is characterized by hoppy bitterness, high carbonation, and a light body
Sweet s'mores will also be available for toasting and include marshmallows in various flavors such as strawberry, chocolate and vanilla.
About The Ritz-Carlton, Half Moon Bay
Situated 23 miles southwest of the San Francisco International Airport, The Ritz-Carlton, Half Moon Bay is a 261-room destination spa and golf coastal resort and the San Francisco Bay Area's only oceanfront resort. Set atop a rugged bluff overlooking 50 miles of pristine California coastline, the timeless oceanfront estate provides guests with a relaxed yet refined experience, whether for a romantic getaway, meeting or special event. For more information on fall activities, please contact The Ritz-Carlton, Half Moon Bay at 650-712-7000. For room reservations, contact your travel professional, visit http://www.ritzcarlton.com/hmb or call Ritz-Carlton worldwide reservations at 800-241-3333. Visit http://www.experiencehalfmoonbay.com to learn more about the destination.
About The Ritz-Carlton Hotel Company, L.L.C.
The Ritz-Carlton Hotel Company, L.L.C., of Chevy Chase, Md., currently operates 86 hotels in the Americas, Europe, Asia, the Middle East, Africa, and the Caribbean. More than 30 hotel and residential projects are under development around the globe. The Ritz-Carlton is the only service company to have twice earned the prestigious Malcolm Baldrige National Quality Award, an award that originated in 1987. Its purpose is to promote the awareness of quality excellence, recognize quality achievements of companies and publicize successful quality strategies. The Ritz-Carlton Hotel Company won the award in 1992 and 1999. For more information, or reservations, contact a travel professional, call toll free in the U.S. 1-800-241-3333, or visit the company web site at http://www.ritzcarlton.com. The Ritz-Carlton Hotel Company, L.L.C. is a wholly-owned subsidiary of Marriott International, Inc.