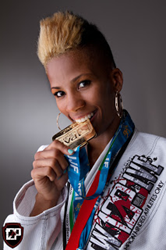 Camp Springs, MD (PRWEB) July 02, 2014
Team Lloyd Irvin, based out of Camp Springs, MD, is one of the best grappling and jiu jitsu teams in America. The MMA academy boasts several world-class Black belts and several World Champions. One of their champions is Nyjah Easton.
Easton, having completed 2 years as a Black belt, has several big wins under her belt, including UAEJJ World Champion, European Open Champ, and IBJJF World Champion as a purple belt. She recently placed 3rd at the 2014 IBJJF World Championships. Now, Easton's been invited to compete at the Grapplers Quest "The Ultimates" 16-Woman Submission Only Tournament in Las Vegas, NV on July 5th and 6th.
The Grapplers Quest Tournament starts on Saturday, July 5th, at 10:30 AM at UFC Fan Expo and will feature Special Rules developed by Brian Cimins, owner of Grapplers Quest. The tournament will be featuring two 10-minute Submission Only rounds followed by a 6-minute overtime, if necessary, using Grapplers Quest points. The Finals will be Submission Only with No Time Limit and the UFC Fan Expo will host the LIVE Finals for The Ultimate Grappler Tournaments on Sunday, July 6 starting at 10:30 AM in the Center Rings.
Lloyd Irvin, head coach of Lloyd Irvin's Martial Arts Academy/Team Lloyd Irvin, is very proud to send his first female Black belt to compete in the tournament. Nyjah has been training under Lloyd Irvin for over 10 years, starting when she was 16 years old.
When Nyjah isn't traveling and competing, she works at Lloyd Irvin Martial Arts, teaching Jiu Jitsu classes, private lessons, student consultation, and Tiny Ninjas Summer Camp director.
"I'm very excited to have been invited to the tournament. I've been competing at Grapplers Quest tournaments for years, and it's cool to be heading to Vegas to compete in this special tournament format. I'm looking forward to bringing home the win to Team Lloyd Irvin," says Nyjah.
Lloyd Irvin's Martial Arts Academy is located in Camp Springs, Prince George's County, MD. Lloyd Irvin first opened the doors of the Academy in 1996, and has since grown into one of the most prestigious, most sought after BJJ and MMA academies in the World. The Academy offers classes for Men, Women, and Children in BJJ, MMA, Muay Thai, Wrestling, Fitness, and more.
For more information on Lloyd Irvin's Martial Arts Academy, please visit http://www.lloydirvinlive.com, or call 301-449-KICK; lines are open 24/7.