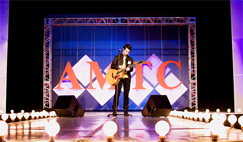 AMTCs job is to find them and guide them up the mountains of arts and entertainment.
Orlando, FL (PRWEB) July 01, 2014
Actors, models, singers, dancers and comedians from around the country have arrived at the Gaylord Palms Resort for AMTC's 63rd biannual SHINE Conference. Started in 1982 by 1940s super-model Millie Lewis and her daughter Carey, AMTC is a third-generation, family-run organization. Its vision is to see the Great Commission of Jesus Christ fulfilled in film, fashion, music and theater.
Summer SHINE 2014 is a week like no other for new talent to showcase their gifts. This year, the Gaylord Palms Resort is graced by over 700 performers and around 70 mainstream and Christian agents, managers, casting directors and music industry professionals. The SHINE Conference is a unique and refreshing experience, bringing in children, teens and adults called by God to be talent missionaries in the world's darkest mission field: entertainment.
Success in the entertainment industry is all about 'What you know' and 'Who you know.' The SHINE Conference is a culmination of both, hosting over 40 VIP-led seminars that provide cutting-edge insight into the talent industry.
Alpha Tyler, casting director for Tyler Perry Studios, is a returning VIP at the biannual SHINE Conference. She speaks about her experiences with the organization, "I had such a good time at AMTC! The talent that attended your event was very impressive. The entire staff was very helpful, professional and kept things running beautifully. I would be thrilled to participate again in the future. Thank you so much for the opportunity," she says.
SHINE is a safe, family-oriented highway to Hollywood. Performers are prepared in The Bridge Training Program: a unique talent education program built on God's Word and taught by godly coaches. AMTC Chief Serving Officer, Carey Lewis, speaks about the organization's purpose, "God is preparing an army of performers and AMTC's job is to find them and guide them up the mountains of arts and entertainment," she said.
Performers who wish to attend SHINE must audition and be accepted into the program.