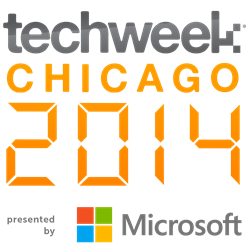 Chicago, IL (PRWEB) July 02, 2014
Techweek, the nation's leading technology conference and festival showcasing, celebrating and enabling emerging innovation ecosystems, concluded its 4th Annual Techweek Chicago as presented by Microsoft on June 29. With record attendance this year of more than 12,000, Techweek Chicago is the largest technology conference in the Midwest dedicated to bringing together entrepreneurs, visionaries, influencers and thought leaders under a single 7-day "big tent" of remarkable collaboration and engagement. Techweek Chicago 2014 culminated in an exciting conference and expo, closing out a week dedicated to spotlighting the local ecosystem.
Techweek Chicago is focused on celebrating the unique intersections in technology, including those in education, finance, entertainment, fashion, gaming and more. Highlights of this year's event include:

High-Profile Speakers: Techweek Chicago gathered the foremost leaders and influencers in technology in nine summits focusing on trends, innovation, growth, action and change within the greater tech industry. Notable names included: Brenna Berman, commissioner and CIO of the City of Chicago; Ryan Ozonian, president of Cyber Dust; Kathryn Minshew, co-founder and CEO of The Muse; and Jeff Hoffman, partner and co-founder of ColorJar and founder of Priceline.
LAUNCH Competition: Roughly 100 pre-qualified startups competed for cash and sponsor-donated gifts valued at $50,000. Judged by a panel of top tech and business leaders, this year's winner of the LAUNCH Competition is Jail Education Solutions. With a mission to provide an intuitive learning platform that incentivizes educational attainment, Jail Education Solutions provides an easy-to-manage education solution that is free for most corrections facilities.
Future Sound Music Festival: The intersection between music and technology was explored during the inaugural Future Sound Music Festival that took place along the Chicago River with sweeping views of the city. Innovative and award-winning headliners included Eric Prydz, St. Lucia and Morgan Page, who ended the 3-day festival with an immersive 3-D show.
FashionTECH Runway Show: The latest production in wearable technology, e-commerce and innovative manufacturing brought tech front and center to the Techweek Chicago runway. The show included influential local tech entrepreneurs Shradha Agarwal, co-founder of ContextMedia, Coco Meers, founder and CEO of PrettyQuick and Brent Payne, CEO of Loud Interactive, who showed off the latest in fashion tech trends from: Central Standard Timing, The Empowerment Plan, Garmin, GiftBar, LUNATIK, Misift Wearables, The Tie Bar, Brideside and other local Chicago brands.
Hackathon: With 24 hours of development fueled by participants' passions for business, innovation and technology, Techweek Chicago's Hackathon, presented by AngelHack and Rackspace, featured more than 50 developers, designers, and entrepreneurs working to create the next big web or mobile app. This year's winner is Road Raven, an app that locates potholes on roads across the nation, suggests alternative routes for motorists and provides real-time road condition intelligence for local governments.
"Our goal for Techweek Chicago 2014 was to strengthen and enable innovation and development of the local tech community," said Iain Shovlin, Chairman of Techweek. "We are proud that in our fourth year in the Windy City, we were a part of important conversations impacting tech across the board, bringing some of the brightest minds and ideas together to grow as a community. We look forward to next year as we continue to drive these conversations and actions forward to help promote and support the growth of tech in Chicago."
Top sponsors of Techweek Chicago include: Dropbox, Gogo Air, Microsoft, Salesforce and Southwest Airlines.
To learn more about Techweek Chicago, please visit http://techweek.com/chicago.