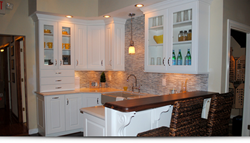 You can do everything here at once.
Newport News, VA (PRWEB) July 08, 2014
Hatchett Design Remodel has recently unveiled their new kitchen displays in their showroom, a space they constantly update to stay current with the latest design trends and newest remodeling products. The showroom is an integral part of their client's experience during the Design-Build process.
Hatchett's Design-Build approach simplifies the remodeling process for homeowners which ultimately saves them time and frustration. By offering a showroom like theirs, Hatchett spares homeowners the hassle of running from store to store all over Hampton Roads to shop for the various products needed for their project. Michael Hatchett adds, "you can do everything here at once," and he believes that is one of the many reasons why clients choose Hatchett Design Remodel.
By allowing their clients to see and touch the products first hand, they are able to feel confident in their selections before a single item is purchased. That is why Jessica Altman carefully selects the products used in the kitchen and bathroom vignettes that she designs for the Hatchett Showroom. Each space demonstrates a different design style, such as Traditional, Contemporary or Transitional; and features different materials from the floors to the countertops to the cabinetry. In addition to the vignettes, the Hatchett Showroom contains a variety of sample displays as well. Altman says that Hatchett is "constantly updating things so you always have the new faucets and new tile and new options so your Bathroom isn't just like your neighbor's bathroom."
From bathroom and kitchen remodeling projects to building additions and outdoor living spaces, the showroom at Hatchett Design Remodel allows homeowners to experience each element of their soon to be remodeled space before they have to live with those products in their home.
To experience the Hatchett Design Remodel Showroom, visit their main office at 11725 Jefferson Avenue in Newport News. Walk-ins are welcome or you can make an appointment by calling 757-244-1777.
About Hatchett Design Remodel
Hatchett Design Remodel was founded in 1960 with a vision to provide exceptional construction services to Southeastern Virginia. Originally a siding and roofing company, Hatchett has evolved into a full service Design-Build Firm providing Kitchen Remodeling, Bath Remodeling, Additions and Sunrooms services from the design process through construction for homeowners in the Hampton Roads area.