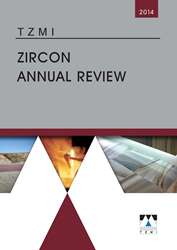 The zircon industry remained subdued in 2013 with many producers curtailing production
(PRWEB UK) 3 July 2014
TZ Minerals International (TZMI) is pleased to announce the release of the Zircon Annual Review 2014.
Each year TZMI releases a suite of four reports providing a comprehensive, in depth and independent analysis of each of the sectors in the TiO2 value chain. These reports are the Zircon Annual Review, Titanium Feedstock Annual Review, TiO2 Pigment Annual Review and Titanium Metal Annual Review.
This year, TZMI has undertaken extensive updates to its database for all of the sectors in the titanium value chain. This has been supplemented by a number of in depth research projects undertaken in China further bolstering TZMI's expertise in these sectors.
The Zircon Annual Review 2014 provides an analysis of events in the zircon industry in 2013, including up-to-date commentary and independent review of end-consumers, supply and demand, new projects and new sources of supply, extensive profiles of all industry participants, as well as an outlook for coming years while identifying key trends and developments and impacts on a global scale.
Zircon is commonly found in alluvial deposits in conjunction with other heavy minerals, most typically titanium minerals. The majority of zircon is produced as a co-product of titanium mining in heavy mineral sands deposits.
The value chain for zircon covers three stages:

Mining and processing to produce zircon sand;
Further processing to produce milled zircon or simple zirconium chemicals; and
Incorporation of milled zircon or zirconium chemicals into complex final products.
Approximately 70% of zircon sand is milled into flour or opacifier prior to end-use; 20% is processed into zirconium chemicals prior to end-use; and 10% is used directly in end-use applications.
This year, there is more emphasis on the end-uses for zircon with dedicated chapters to the ceramics industry, the still rapidly growing specialty chemicals and materials segment, plus the refractories and foundry segments.
The zircon industry remained subdued in 2013 with many producers curtailing production in response to a depressed market and demand remaining weak.
TZMI has adjusted downwards its long-term price forecast for zircon in 2014 to reflect the structural change in underlying demand. Some new projects will be affected by lower zircon prices and may need re-assessment of their titanium feedstock prospects amid a tight financing environment.
The information contained in Zircon Annual Review 2014 is carefully researched drawing on TZMI's extensive database. It is also an essential reference for the industry while identifying key trends and developments within the sector and the broader impact on a global scale.
This publication is an essential resource for all participants who are involved in zircon related activities or wanting to learn more about this dynamic sector, including:

Zircon producers
Zircon end-users including those in ceramics, refractories, foundries, and specialty chemicals and materials
New producers
Mineral sands producers and industry participants
Financial industry (fund managers, hedge funds, investors and potential investors)
Those interested in entering the sector
Orders for Zircon Annual Review 2014 are now being taken by TZMI.
For more information, please visit http://www.tzmi.com or call +61 8 9359 6000.
About TZMI
TZ Minerals International (TZMI) is a global, independent consulting and publishing company with offices in Australia, China, the US and South Africa. The strength of TZMI's consulting services stems from extensive practical experience in the mineral sands, titanium dioxide and coatings industries and from a comprehensive database, which has been built up over many years.
TZMI has proven expertise gained from our consultants having many years of direct operating experience in the industry in chief executive, senior operational, analytical and marketing roles.
TZMI's publications and data services support the consulting activities and ensure up-to-date, high quality and comprehensive data, analysis and information across the mineral sands, zircon and TiO2 pigment industries.
TZMI provides operational and technical expert advice on many areas including:

Mergers and Acquisitions
Market Assessments and industry analysis
Due diligence
Pre-feasibility studies incl. preliminary capital and operating cost estimation
Competitive cost analysis and benchmarking
Technical reviews and audits
Resource assessments
Physical separation test work
Flowsheet development
Customised data analysis and reporting
FURTHER INFORMATION
Tracey Kelly – Business Development and Marketing Manager
TZ Minerals International
E: tracey(dot)kelly(at)tzmi(dot)com P: +61 8 9359 6000