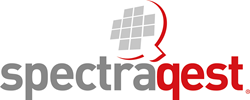 (PRWEB) July 03, 2014
Visitors to the site can easily navigate to find information about the company's solutions and products, as well as the benefits experienced by companies from specific industries: Construction Materials Testing Laboratories, Geotechnical Testing Laboratories, Field Testing and Inspection Consultants, Aggregate, Asphalt or Concrete Producers, Road Builders or Departments of Transportation. Testimonials from some of Spectra QEST's customers can also be found on the site.
During 2014, Spectra QEST is celebrating the 30th anniversary since the founding of the company. The new website also contains a link to the 30th anniversary booklet which can be viewed online or downloaded as a pdf.
Spectra QEST would like to acknowledge the thorough and professional work of Ennovative in designing and building the website.
About Spectra QEST
Spectra QEST is a software development and services company specializing in solutions for the construction materials engineering, testing, inspection and production industries. Founded in January 1984, Spectra QEST offers the most comprehensive construction materials quality platform on the market today. With offices located in Adelaide, South Australia, and Sacramento, California, it services customers in North America, Europe, Australasia and the Middle East. These customers include leading international construction companies, construction materials and geotechnical engineering companies, construction materials manufacturers, and government bodies.
Spectra QEST's technology has been honored with an American Council of Engineering Companies (ACEC) Gold Medal for Engineering Excellence (Texas) and an ACEC National Recognition Award for the QESTField product. Also, Spectra QEST was successful in winning Australia's premier IT industry award, the 2013 iAwards, both at State and National levels. Spectra QEST also won the Business SA 2013 Export Award.