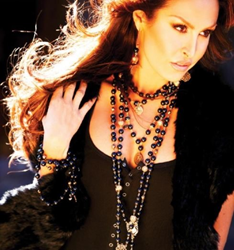 It is my hope that this very special collaboration and collection will make every person who wears a piece, feel equally as special as we do when we create them
San Diego, CA (PRWEB) July 02, 2014
Today, it is was announced that wife of David Justice – Legendary two time World Series Champion – Rebecca Justice and Internationally and Nationally known furniture manufacturer Marie Cunning, together launched their new partnership and website, Rebecca Justice Collections by Marie Cunning.
Rebecca Justice Collections by Marie Cunning launched their new and improved website in a private release to their exclusive clientele with amazing feedback they are officially launching to the public, this unique and exquisite jewelry line, known as "House of Sacred Flame." This name was born like a phoenix from the ashes, after the tragic loss of the Justice home during the 2007 Fires.
Rebecca Justice is not only a wife and mother, she is also known for her own designed furniture line "Villa de Justicia," a former sports and fitness model who has been featured in numerous website and editorial releases, and also a highly sought after designer.
"This collaboration between Marie and I is another extraordinary creative release that not only features our love of design and architecture but is also a soulful journey for anyone who wears a piece from our jewelry line," Justice noted. Rebecca and her family were recently aired on an episode of ABC' "Celebrity Wife Swap on June 3, 2014 which touted the highest ratings of all shows as well as, doubled viewership ratings from the Season Finale.
"Stunning jewelry has always been an obsession of mine and I'm thrilled to collaborate with Rebecca in creating a collection that truly captures the stylistic essence of all our design experiences and also, the love of spiritually related accents," Cunning stated. "It is my hope that this very special collaboration and collection will make every person who wears a piece, feel equally as special as we do when we create them."
Headquartered in Vista, CA, Rebecca Justice Collections by Marie Cunning is poised to be one of the nation's leading jewelry, interior design, and home accessories business. Rebecca Justice Collections by Marie Cunning is being officially released and ready for ordering.
For more information, visit the official website of Rebecca Justice Collections by Marie Cunning at http://www.rebeccajusticecollections.com/.
About Rebecca Justice:
Rebecca Justice is a graduate of Long Beach State University with a degree in Design and Fashion Merchandising. Her experience includes working as promotional manager, professional Model, and Designer. She currently resides in San Diego with her husband, 2 times World Series Champion David Justice, and their three children.
About Marie Cunning:
Marie Cunning is CEO and Founder of Andrew Morgan Furniture since 1982. She graduated from National University with a Master's Degree in Marketing. She is a published Designer and she is known nationally and internationally for her Furniture Designs. Andrew Morgan Furniture is a company that produces high end furniture for Interior Designers, Architects, High End Hotels and Resorts. Andrew Morgan produces Custom furniture of any style and ships all over the world.