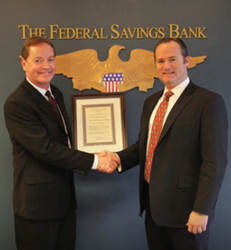 In May, the median price for all existing homes types was $213,400, up 5.1 percent compared to the previous year.
Chicago, IL (PRWEB) July 02, 2014
The Federal Savings Bank was pleased to see the sales of existing homes, which included completed transactions for single-family homes, condos and co-ops and townhomes went up in May, according to the National Association of Realtors on June 23.
There was a 4.9 percent increase month over month to bring the total number of existing-home sales to a seasonally adjusted annual rate of 4.89 million units in May, up from April's upwardly-revised 4.66 million. This was the highest monthly gain since a 5.5 percent rise in August 2011. Year over year, there was a 5 percent drop from May 2013's rate of 5.15 million transactions.
Here are the sales rates for the types of housing:
Single-family homes: There was a 5.7 percent increase for these properties compared to April, rising from 4.07 million to a seasonally adjusted annual rate of 4.3 million. Compared to May 2013, there was a 5.7 percent drop from 4.56 million units.
Condos and co-ops: These properties held steady at 590,000 on both a monthly and yearly basis.
Gains for existing-home inventory
The NAR also reported growth for housing inventory. There was a 2.2 percent rise month over month to 2.28 million existing homes on the market, representing a 5.6-month supply. This was a slight decrease from April's 5.7-month supply. May's supply was 6 percent higher than May 2013's 2.15 million existing homes in the inventory. The trend noted in this June 30 report by The Federal Savings Bank follows for-sale inventory gains revealed by a recent Zillow report.
"Home buyers are benefiting from slower price growth due to the much-needed, rising inventory levels seen since the beginning of the year," said Lawrence Yun, NAR chief economist. "Moreover, sales were helped by the improving job market and the temporary but slight decline in mortgage rates."
In fact, Freddie Mac recently found that current interest rates are doing better than the year prior, with the average rate for a 30-year fixed mortgage at 4.14 percent in the week ending June 26, down from 4.14 percent the previous week and 4.46 percent the same time a year ago.
Prices up from May 2013
NAR President Steve Brown said that many potential home buyers were not able to get into the market starting last summer as affordability declined. However, with low cost mortgage options available, there should be more opportunity available. Such financing is necessary, as home prices are still growing, though at a slower rate.
In May, the median price for all existing homes types was $213,400, up 5.1 percent compared to the previous year. In the single-family market, there was a 4.9 percent gain year over year to $213,600. Condos and co-ops went up 6.6 percent to $212,300. The West posted the largest price gains, rising 8.4 percent over May 2013.
For information about how you can get a low rate mortgage to purchase a home, contact the Federal Savings Bank, a veteran owned bank.