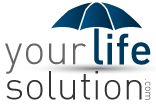 Chicago, IL (PRWEB) July 02, 2014
YourLifeSolution.com, a service which provides website users instantaneous life insurance quotes online, is today alerting consumers of the financial dangers of relying on annual renewable term life insurance, which is also known as one year term life insurance. YourLifeSolution.com claims that such policies create a financial death spiral in that consumers are charged significantly more each year for these policies and that if the insured's health deteriorates, the insured can become trapped in a life insurance policy that rises with age and rises at a pace even greater than that of new policy premiums. "Annually renewable term life insurance is the disposable silverware of life insurance. It's cheap in the beginning, is far less valuable, and is far more expensive in the long run. Numerous firms, including a major retail chain, have actually taken to marketing this product as though it's somehow a brilliant way for consumers to save on life insurance when in fact it's a weak excuse for protection," said Eric Smith, the founder of YourLifeSolution.com.
YourLifeSolution.com has not ever and commits not to in the future market or suggest annually renewable term life insurance to their clients on the grounds that it cannot be justified as an advantageous product.
Consumers interested in getting instant life insurance quotes online are encouraged to utilize the quote engine on YourLifeSolution.com. Information can also be obtained by phone at 888.374.2764.