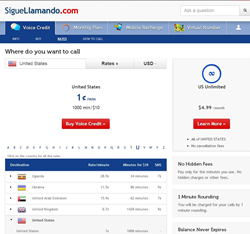 Great service! Easy, fast and effective. Vfaretta, SigueLlamando customer, on ResellerRatings.com
Atlanta, Georgia (PRWEB) July 03, 2014
SigueLlamando.com announces two special offers designed for people living abroad who need to call on a regular basis their family and friends living back home: lower calling rates and a brand new calling plan service, called monthly plan.
SigueLlamando lowered its international calling rates, with values ranging from 11-12¢/min to 0.2-0.3 ¢/min. One of the highest decrease amount applied for calls to Cuba (mobiles and landlines), but also to calls to Brazil (Rio de Janeiro), Venezuela or Porto Rico. Colombia, Peru, El Salvador, Ecuador, Nicaragua, Jamaica also enjoy rate decreases of at least 1¢/min. The full list of destinations that are proud to announce lower calling rates is available on http://www.SigueLlamando.com.
La piece de resistance of this summer is the monthly plan. SigueLlamando.com new monthly plans are available worldwide, offering an easy solution to keep a close relationship with the loved ones, no matter the country they live in.
Europe welcomes international callers with 5 plans available for 3 countries: Germany, Poland and Romania. Germany 1000 offers 1000 minutes to call all landlines in Germany for $9.99/month. All landlines and mobiles in Poland may be accessed with only 1.5¢/ min: Poland 500 includes 500 minutes for $7.99/month, whereas Poland 1000 offers 1000 minutes for $14.99/month. All plans propose a variety of features that fit all customers' needs. Romania 500 offers 500 minutes to call any number in Romania at only $9.49/month, whereas Romania 1000 offers 1000 minutes talk about all things that customers miss when away, at only $18.99/month.
Australia is more easy to call than never: 1¢/min to any landline. Australia 1000 offers customers more than 30 minutes to call Australia daily, 7 days/week, every month, for $9.99/month.
Calling plans for China, India, South Korea, Bangladesh, Thailand are Siguellamando.com's offer for Asian customers living abroad. Because there are some many amazing things and beautiful people in Asia, it is hard not to miss them and try to make the memories more vivid by calling more often.
China 300 (for $2.99), China 550 (for $2.99) and China 1100 will fit everyone's taste: reserved, moderate or talkative. And longer talks are rewarded lower rates: 1¢/min for China 300, 0.9¢/min for China 550 and 0.8¢/min for China 1100.
The same rule applies for India: 0.9¢/min for India 550 ($4.99/month), 0.8¢/min for India 1200 ($9.99/month) and 0.8¢/min for India 3300 ($26.99/month). For South Korea, there are two plans: South Korea 500, for $7.49/month and South Korea 1000, for $14.99/month.
And last, but not least, SigueLlamando launches Bangladesh 500, offering 500 minutes for $12.99 and Bangladesh 1000, offering 1000 minutes for $24.99. Thailand also got very attractive rates for people living abroad: $4.99.month for Thailand 550, offering 550 minutes, and $9.99 for Thailand 1100, offering 1100 minutes.
Africa may also be reached more easily: due to their special rates, Nigeria's monthly plans qualify on the "must call" list when it comes to keeping in touch with the dear ones back home in Nigeria: 500 minutes for $15.99/month and 1000 minutes for $31.99/month. The same wish governs Kenya's calling plan: Kenya 500, with 500 minutes, for $49.99.
New Zealand tried its best to keep itself attractive for the people that left it, but misses it on a daily basis: 1¢/min, which means that New Zealand 1000, providing 1000 minutes, would only cost $9.99/month.
Mexico also created various and tempting calling plans: Mexico 250 offering 250 minutes to call mobiles in Mexico for only $7.99/month. If more minutes are needed, Mexico 500 and Mexico 1000 are always available as an upgrading solution. Mexico 500 offers 500 minutes for a fixed amount of $14.99/month, while Mexico 1000 provides its user with 1000 minutes for $29.99/month. Both plans can be used to call mobiles in Mexico and bring a special rate of 3¢/min.
The limits are off the question when calling US: US unlimited offers unlimited minutes to all numbers in US, mobiles and landlines, for a fixed amount of $4.99/month. The plan is available to everyone holding a free account on SigueLlamando.com.
Both Voice Credit and monthly plans minutes can be used:

From any landline, mobile or even payphone in the world, through local or toll free access numbers.
Calls may also be placed through the app called KeepCalling, which is not chargeable. The iOS and Android applications may be used to call without having to dial any access number, and even any phone number at all. Once logged in the app, customers can use their phone Contacts list to call.
From any PC with Internet connection, through the Web Call app available in customers' accounts.
The customer-focused approach, based on safe and user-friendly services and reliable customer service are acknowledged by the customers' reviews: "Great service! Easy, fast and effective" (vfaretta, SigueLlamando customer, on ResellerRatings.com), "It is very fast and easy to do. So happy I found this site" (yngrig129, SigueLlamando customer, on ResellerRatings.com).
About SigueLlamando.com:
SigueLlamando.com is an interactive website designed by KeepCalling, a global telecommunications company registered in 2002 in USA. KeepCalling, the company behind SigueLlamando.com, offers other telecom solutions apart from mobile recharge: Voice Credit, Virtual Number, Monthly Plans, Web Call and Web SMS through various ethnic websites. Presently, KeepCalling provides its services to hundred of thousands consumers and businesses, with a focus on customer satisfaction. In 2013, Inc Magazine listed KeepCalling as the 16th fastest growing company in the telecommunications industry.