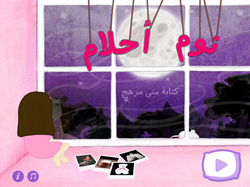 "Our Children deserve the best book apps in Arabic", Dr. Mona, founder of Kankana
(PRWEB) July 03, 2014
Kankana LLC, a company dedicated to infusing a love of Arabic speaking, recently released Ahlam, a one of a kind Interactive Book App for children in Arabic.
With millions of children of Arab origin growing up in non-Arabic speaking countries, and the proliferation of digital devices, it has become a challenge for parents to expose their children to the Arabic language. This is further exacerbated by the lack of high quality apps available in Arabic that engage and entertain their children without force feeding them the Arabic language.
As an attempt to fill this void, Kankana has released Ahlam, a unique and interactive Book App in Arabic, aimed at children from the ages of 3 onwards. Using an easily understood colloquial Arabic, Ahlam tackles a common problem in children, the inability to sleep, and takes children on a journey with the main character, Ahlam, a resourceful six-year old girl who takes charge and empowers children to find their own solutions.
Each page of Ahlam is full of rich illustrations as well as interactive visual and sound elements and a cute little mouse hidden throughout the story.
Ahlam is unique in that it seeks to immerse children into the elements of the Arabic culture while providing their parents with nostalgic sounds and imagery. The young learners can hear the signature sound of the beetles that you often hear in the pine-tree-filled mountains in Lebanon, the sound of water dripping in Lebanon's Jeita Grotto and the famous calls of the corn and baked bread sellers on the Raouche corniche in Beirut.
In addition to referring to popular cultural elements that millions of people can relate to, Ahlam also seeks to bridge the gap between the old and new generations by referring to common popular expressions and rhymes with a twist. In doing so, Ahlam helps break some of the common stereotypes by portraying the grandmother as a modern, tech-savvy woman, and the cousin as a young teen who is passionate about his iPad but who is also able to find the right work/ play balance. By referring to popular Arabic themes which are etched in parents' minds, Ahlam can spark up interesting conversations between parents and children as the parents reminisce on their own childhood and generate more stories and discussions with their children.
Children will enjoy Ahlam and in the process form a positive association with Arabic speaking which it is hoped would encourage them to use it more frequently in their daily lives.
Ahlam can be downloaded on the iPad from Apple's app store across the globe.
About Kankana LLC
Kankana was founded by Dr. Mona Merhej Moussa to infuse love of the Arabic language in Children across the globe. Dr. Mona is a counselling psychologist, the recipient of the Emerging Scholar Award by the International Congress of Applied Psychology in 2010, and the author of Mishmish, a children's book in Arabic which made it on to the prestigious Anna Lindh Honor List in 2007.
For more information, please contact us at :
web / http://www.kankana.me
f / KankanaBooks
twitter / KankanaBooks