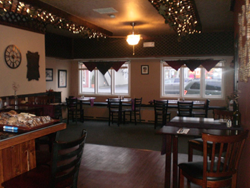 The Metal Ladder Back Chairs are America's most popular restaurant chairs.
Fort Kent, ME (PRWEB) July 02, 2014
Leading commercial furniture distributor, Restaurant Furniture.net recently teamed up with The Custom Cake Café in Fort Kent Maine to update the furniture in their deli by supplying them with new restaurant chairs, bar stools and tables.
The Custom Cake Café takes pride in having the most exquisite food in the St. John Valley. They have brought a little city flair to a small town by mixing some delectable pastries with creative and healthy lunch and dinner options.
The specialty at the cafe is Couture Cakes, but every cake is made to the customer's specific occasion, large or small. They have a variety of dessert and breakfast items always available, and a wonderful selection of breakfast entrees.
The lunch is casual gourmet dining, serving great panini style sandwiches, homemade soups, and exceptional salads. We serve Dinner Friday and Saturday nights from 5-9pm, with our kitchen closing at 8pm.They have appetizers, salads, and amazing entrees like lobster ravioli, shrimp scampi, pork saltimboca, filet mignon and a few others.
The owner of The Custom Cake Cafe needed high quality commercial seating that would look great and be able to withstand the high traffic that the deli experiences on a daily basis. "The owner needed sturdy, durable chairs that look great, but he didn't want to spend a lot of money," explained David M. She turned to Restaurant Furniture.net because of their reputation for premium quality and strong built furniture at affordable prices. Restaurant Furniture.net supplied The Custom Cake Cafe with high quality commercial chairs and tables at competitive prices that fit well within her budget.
The owner decided to go with classic Metal Ladder Back Restaurant Chairs and matching bar stools with solid wood seats in mahogany finish. Customers have the option of a solid wood seat or an American made padded seat made of vinyl or fabric. Wood seats are available in 6 different finishes. The frame is available in black, copper vein, silver vein, gold vein or gold. The Metal Ladder Back Chair on sale for $34.50. The Metal Ladder Back Bar Stool sells for $51.
She also ordered reversible table tops in mahogany and black finish with black t-mold edges. The reversible table tops also come in walnut and brown with brown t-mold edges and are available in many shapes and sizes. Prices for the reversible table tops start at $21. Restaurant Furniture .net also has a wide selection of table bases which are sold separately.
"The Metal Ladder Back Chairs are America's most popular restaurant chairs" remarked David. "They look are very durable and look great in all venues, making them very versatile."
Browse Restaurant Furniture.net's full selection of commercial grade chairs, bar stools, table tops, table bases, booths and patio furniture at http://www.restaurantfurniture.net or talk to a customer service representative at (888) 409-1115.
The Custom Cake Café is located at 142 W. Main St. in Fort Kent, ME. They can be contacted at (207) 834-1140.